Cutting systems: Plasma, Oxyfuel, Laser, Waterjet

MicroStep cutting systems at a glance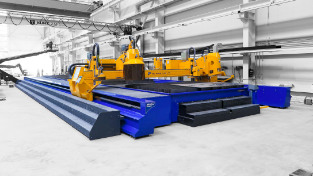 Plasma cutting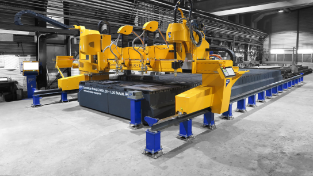 Oxyfuel cutting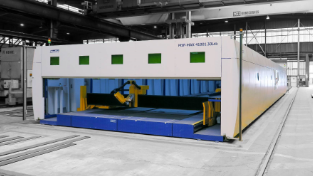 Laser cutting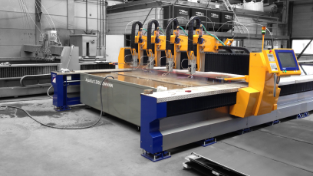 Waterjet cutting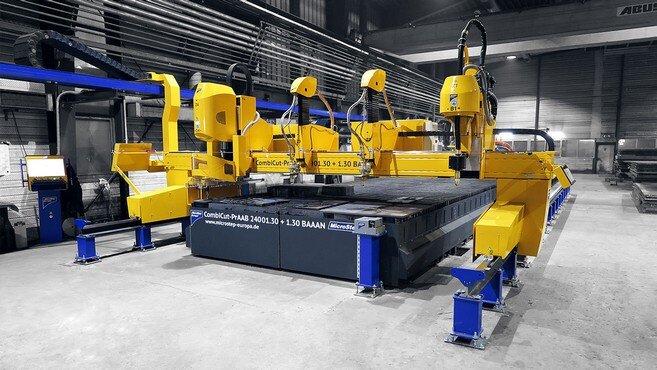 We can do more
than just cutting!
2D and 3D cutting, drilling, tapping, marking etc. on a single system: MicroStep masters process-safe multifunctionality
Find out more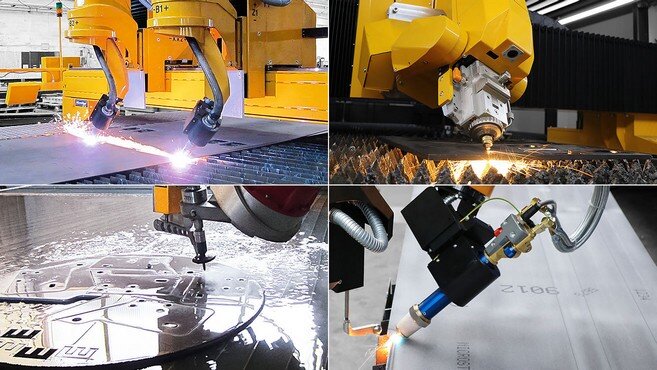 You get
what you need!
MicroStep offers high-end CNC solutions for all cutting technologies relevant in metal processing
Find out more
FAQ: We answer your questions
For whom are cutting systems suitable?
Do you need cut-to-size/processed parts in your production process and have so far purchased these from a contract cutter or cover your needs yourself with a less efficient or outdated solution in-house solution? Then the following applies: By investing in a modern CNC cutting system, productivity, efficiency and flexibility in cutting are optimized, and if necessary, the acquisition can even open up completely new production fields.
At what point is it worth investing in your own cutting system and no longer buying from a contract cutter?
If you have been buying from a contract cutter up to now and the sales volume is more than 30,000 euros, then it is already worth at least considering the purchase of your own solution tailored to your needs. Experience has shown that from a high five-digit sales volume at the contract cutter at the latest, an own cutting system is a sensible investment is almost every case. The same applies in the event that you are unable to fully meet the current demand due to low flexibility, excessively long delivery times or high-capacity utilization of your contract service provider, resulting in additional costs: Modern CNC cutting systems are the central key to optimizing productivity, efficiency and flexibility in cutting.
What is the process for such a large project?
After your initial contact, a technology expert will contact you – either by phone or an appointment will be made directly on site. After this initial consultation, a customized offer will be prepared according to your wishes and specific needs. In the subsequent decision-making phase, our sales team is always at your side to advise you on any questions that may arise. Once you have found the right cutting system for you, our project team is your point of contact: Here you will receive all the information about which preparations need to be made for the implementation of your new CNC system. The colleagues will also fix the dates for training as well as for delivery, installation and commissioning. When the new cutting system is in operation at your company, our experts from the service & support and after-sales departments are closely at your side and ensure that you get maximum performance from your new CNC technology at any time.
How do I find the right cutting system?
Our technology experts will analyze your actual needs with you and show you possible optimization potentials. Here, for example, the material mix to be processed, the specific work processes required and the estimated capacity utilization play a major role. Our experts then work out concrete improvement options with you and, based on these facts, a suitable system solution for you is configured and presented.
How is a CNC cutting machine controlled?
Depending on the series and requirements, the machine is controlled via different operating units. It is important that the cutting system, control and software interact perfectly to achieve optimal results. At MicroStep, everything comes from a single source and can therefore be adapted to customer requirements particularly flexibly. Of course, it is also possible to integrate external software or to implement connections to various ERP systems. In this way, cutting plans can be easily, reliably and effectively converted into finished components.
What if the cutting system stops working?
We know that our cutting system is almost always one of the first links in the production chain – if the cutting system does not run reliably, the production process comes to a standstill. With its reliable service and support network MicroStep guarantees the highest possible system availability. Competent and well-trained specialists implement customer requirements with very fast response times and take care of your needs. Wear and spare parts are always available.
How do employees learn to operate this complex system?
First, a theoretical introduction to software and control is provided by our training team in one of our CompetenceCenters. When the system is ready for operation on your premises, the machine operators are trained by our service technicians directly on your new cutting system. Even after commissioning, our large service team is available to you by phone at any time. A permanently available and wide range of training courses ensures that you can also have new employees trained for efficient operation of your CNC system solution, if required.
Can I also see the selected cutting system live?
Anyone interested can make an appointment for a visit at the MicroStep company headquarters in Slovakia. Here, all common cutting processes such as plasma, laser, waterjet or oxyfuel are available on various machine series for rapid tests. If required, a specific system configuration can also be viewed at an existing customer's site to personally see the quality of our solutions in operation.
What do I need for a cutting system?
First, there must be sufficient space and a suitable installation site with a compatible floor structure. Depending on the cutting technology, you also need a suitable cutting table and, if necessary, a filter system for accumulating dusts. A cutting system also includes, for example, a plasma power source with plasma torch, a corresponding laser source with laser cutting head, a high-pressure waterjet pump with cutting head or an oxyfuel supply with oxyfuel torch, as well as a supply of gases, energy and compressed air, network. In addition to storage space for semi-finished material and finished products, intralogistics with appropriate crane equipment and storage systems are also recommended in many cases. How the periphery should be designed in detail depends decisively on the individual configuration of your cutting system – it is best to get advice on this directly from one of our technology experts!
How do I find the right supplier?
First, you need to find the CNC cutting system for your company that is perfectly tailored to your particular needs. Here it is important that the supplier advises you comprehensively and can show you all conceivable possibilities. If in doubt, do not be afraid to get a 2nd or even a 3rd opinion! Support during operation is also an important aspect, so the supplier's service should also be considered. Always keep in mind: Not all manufacturers offer all four cutting technologies that are relevant in metalworking (i.e. plasma, laser, waterjet and oxyfuel) and, against this background, may not advise on your needs, but on their product. MicroStep, on the other hand, masters all four cutting technologies, both in 2D and 3D, at a top level and can thus provide you with your optimal system. We therefore provide independent advice on the technology and offer you the tailor-made technical solution that you actually need. All with the focus that the compiled complete package can possibly be expanded or retrofitted in the future.