MSLoop
Multiplier for processing
of sheet metal
MSLoop | The intelligent shuttle table system
MSLoop is a shuttle table system, consisting of several cutting grids, which significantly increases the throughput of CNC cutting machines, as the system allows simultaneous loading, cutting and unloading. The principle of the system is that three shuttle tables rotate in an endless loop: One table is first loaded, then moves into the processing zone and after cutting into the unloading zone – after complete unloading, the table finally moves under the cutting system back into the loading zone. The table size can be configured modularly from 3.0 m in 1.5 m units.
Optionally, a technology for pre-processing the material can be integrated in the loading zone, for example to apply markings or remove primer from surfaces. To further automate and accelerate the production process, MSLoop can be combined with an automatic material handling system. Maximum productivity is achieved by the shuttle table solution in combination with MicroStep's MPM production management software.




Features
Software
Software from MicroStep® – developed especially for cutting
To allow you to concentrate fully on your production, our MicroStep® software solutions, drawings and cutting plans help you to intuitively convert them into finished components. Part of our product range also includes automation solutions for the organization of your entire cutting process.

MPM Production Management
MPM forms the basis for automated cutting. It automatically nests complex cutting jobs and projects on the right material and distributes the cutting plans to cutting machines for processing.
Media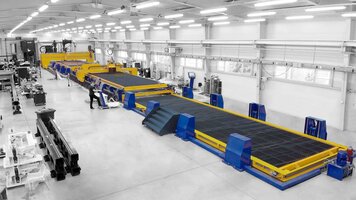 MSLoop