MSF Compact series
Compact, fast, precise: The 2D laser system with a small footprint
The MSF Compact | Compact laser cutting
The MSF Compact combines precise 2D laser cutting with a compact design. This space-saving version of MicroStep's fiber laser machine is available in work areas of 1,000 x 2,000 mm, 1,250 x 2,500 mm and 1,500 x 3,000 mm and is particularly attractive thanks to its small footprint in combination with the genuinely high cutting quality. A manually extractable cutting table enables easy and straightforward loading.
MSF Compact machines are available with state-of-the-art fiber laser sources with a power range of 1 to 4 kW. The machines are perfect for production of highly accurate parts at high cutting speeds, with a small footprint and low maintenance and operational costs. Their high dynamics is achieved by a lowseated gantry, digital AC drives and precise planetary gears.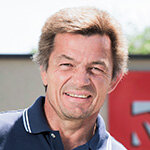 "This is exactly the equipment we need for our work here at the company. It is small and compact and fits exactly into our limited space. The precision is very impressive."
Urs Pfister,
Managing Director | Metallbau Pfister AG
Features