Expert for special solutions
We not only have the cutting systems for you, but can also react flexibly to your wishes, as control system and software come from our company as well.
Modern cutting solutions require flexibility, precision and efficiency. For optimum results, the cutting system, control system and software must work perfectly together. In addition to versatile standard solutions, which already offer a wide range of processing possibilities due to their modular design, MicroStep has always been a sought-after partner in the field of special systems engineering. Because we can react to customer requirements in a particularly flexible way, as not only the cutting machines, but also the control system and software are developed and produced by MicroStep. Our maxim is: The right solution for every cutting task!

Automated production linesMicroStep's automated manufacturing cells lay the groundwork for connected factories

Automated robot solutions
From mere robot workstations to combined systems with robots for cutting or manipulation: MicroStep provides a part or even the complete solution for your task

Automated panel processing
MicroStep develops and supplies customized solutions for the requirements of the shipbuilding industry: high-precision panel cutting machines and panel lines with extraordinary gantry widths and systems for processing large-sized sheets
Automated production lines
MicroStep's automated manufacturing cells in the field of cutting lay the groundwork for connected factories
An example of an automatic production line developed by MicroStep including cutting systems and material handling: this consists of several MG plasma cutting systems with automatic MSLoad shuttle table and integrated conveyor systems.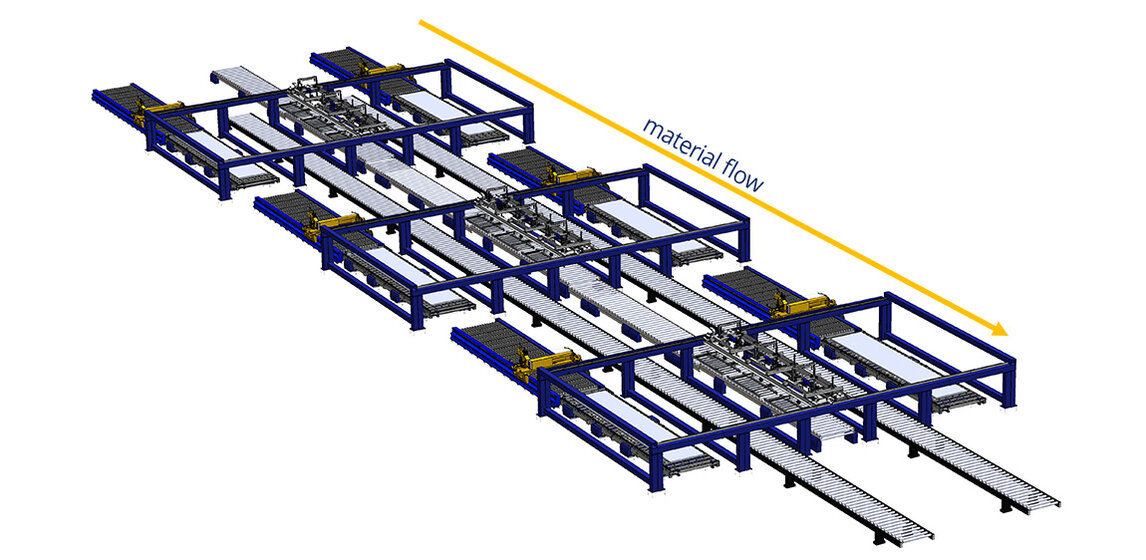 MicroStep's origins were in control and automation. These topics have been an organic part of its activities and helped shape the product portfolio since the early days, when the company was designing its first CNC system. The idea of minimizing and automating material manipulation via multifunctionality and integration of handling equipment into the cutting machines was understood as a logical step towards cost reduction and saving of production time. In line with these requirements, MicroStep developed and
implemented a number of automation solutions and machine-to-machine interfaces, integrating several cutting machines and automated material handling units into larger production systems, especially in large-scale production. The universal and modular nature of MicroStep's products lays groundwork for future industrial interoperability.
While facing ever-growing demands for greater efficiency, faster manufacturing, further cost reduction and resource conservation, the industry has recently witnessed a paradigm shift concerning future development of industrial engineering. Terms like digitalization, digital transformation, IIoT-powered automation and Industry 4.0 fueled discussion and activity in both academic and commercial spheres. Key improvements are expected to come as a result of smart project management, production automation, interoperability of production means, as well as implementation of predictive maintenance. MicroStep has been building its systems with these basic ideas in mind for at least a decade now.

Alexander Varga, PhD
Head of Research & Development
MicroStep

"Nowadays it is not only about the cutting but about complex part preparation.
By adding equipment for loading, unloading and sorting, our machines become
automated manufacturing cells."
MicroStep's philosophy is to deliver machines that are not isolated tools but form an innate part of production workflow by exchanging information, predicting potential breakdowns and automating the material flow throughout customer's production. The key areas include the automation of processes in line with the ideas of IIoT and Industry 4.0, improving consistency of cutting quality, reducing the impact of human errors and increasing machine productivity.
Our customers who operate highly-advanced manufacturing facilities often look for complex automated cutting solutions where the input is the raw material plus task entries from their ERP systems and the output is processed and sorted high-quality parts, with an update on their status sent back to ERP; all of this regardless of the used cutting technology. Efficiency and reliability of the process are considered a matter of course.
To be able to realize diverse production projects efficiently, it is advisable for a manufacturer to have a set of versatile means of production that enable smooth transition between different projects. The trend shaping most industries nowadays is flexibility: a result of increasing demand for a wide range of more customized product variants. "Lot size 1" – the possibility of customization up to a production output of a single product for a single customer based on their requirements – is the ultimate goal.
All in all, a high degree of automation, a good selection of technologies and the capability to process various sizes of workpieces are required.


Chinese mechanical and plant engineering company invests in an automated production line with six CNC plasma cutting systems including automatic loading and unloading by means of an integrated process crane. In our detailed report, the enormous efficiency gain through the automation of the production becomes clear.
In line with the abovementioned trends, MicroStep's cutting machines are designed to be actively integrated into centrally managed production systems. This is achieved by automating the material flow using in-house produced feeding and lifting equipment and conveyors, combined with software that enables the machines to communicate with different applications of a production management system, such as stock-, order- and part databases as well as with external ERP systems. "Nowadays it is not only about the cutting but about complex part preparation. By adding equipment for loading, unloading and sorting, our machines become automated manufacturing cells." says Alexander Varga, Phd, Head of Research & Development at MicroStep.
The goal is for the machine to be able to quickly adapt to different cutting and processing requirements, increase work efficiency, optimize the production process and minimize costs and risks. The whole production should be fast, smooth, transparent and be monitored from the corporate network.
With its strong research and development capabilities, MicroStep is able to meet even those customers' requirements that were previously considered unfeasible. The most innovative solutions to date result from close cooperation between customers with visionary concepts of their production facilities and MicroStep with the willingness to meet challenges and to turn their visions into reality.
MPM®: 100 percent control and efficiency in all processes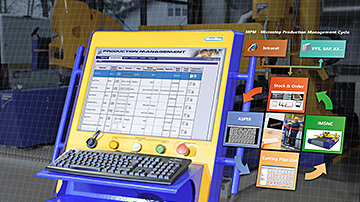 MicroStep Production Management MPM® – increases the efficiency in all processes, whether in the planning of cutting processes or the coordination of cutting. It manages even large cutting orders or projects and processes the cutting plans according to the prioritization and suitability of the system. The transparency of the orders is improved by real-time order tracking. Cut parts that do not meet the required quality can be directly transferred back to the order list as cutting tasks if required. MPM® can even be connected to the material storage and then manage the material availability directly.
Production Management MPM
Automated robot solutions
From mere robot workstations to combined systems with robots for cutting or manipulation: MicroStep provides a part or even the complete solution for your task
MicroStep's continuous activity in the field of robotic applications has resulted over the years in a comprehensive product line of components for robotic working cells – different types of workpiece positioners, gantry-type and cross-beam motion systems and standardized modular welding cells have been part of the portfolio for many years. Robots have been used for manipulation, welding, cutting or routing as part of a work sequence in production lines or as standalone
cells.
Furthermore, apart from designing robotic and semi-robotic workplaces to automate various production processes, MicroStep's engineers have been increasingly intrigued by the vast movement possibilities of robotic arms and their potential to be utilized as carriers of cutting tools on gantry-based CNC cutting machines – especially in the field of structural steel applications such as cutting of beams or domes. This area is being gradually developed.

José Pycke
Workshop Manager
Jan De Nul Group

"The plasma/oxyfuel cutting machine with integrated robot has resulted in considerable time saving because all the weld preparation is now done automatically and in one step which alsoincreases quality."
Apart from mechanical challenges with the integration of robotic arms into CNC cutting machines, the main job is to be done by control system developers. The robotic arm brings a whole different type of kinematics, a few more driven axes and requirements for controlling the cutting technology. Besides the robot itself, the machine can contain also other, standard, tool stations with various straight/bevel cutting, drilling or marking technologies. In order to achieve seamless switching between cutting heads, the control of the robot has to be integrated into the control system of the CNC machine responsible for all the mechanical modules of the system. Even though robotic arm manufacturers supply their products with genuine control systems, their implementation may present several obstacles, such as incompatibility of the communication interface, too low refresh rate of the desired effector position, insufficient feedback speed or issues of coordination with other movement axes of the machine. So here's the trick: to ensure the desired operating properties, MicroStep has developed its own control modules for robots within the iMSNC control system, which cooperate flawlessly with the rest of the system. The solution takes into account mechanical tolerances of the individual robot joints as well as its movement specifics arising from the robot's construction.
MicroStep's projects with robots so far include turnkey applications such as welding of frames of tower cranes, ATVs and snowmobiles, welding of high voltage capacitors, transformer tanks and conveyor rollers as well as milling of plastics, luting, relocation of aluminium casting molds, a test cell for a partial simulation of a production line, automated cutting of ceramic tanks, cutting of coupons from hot-rolled steel and others.
For Villeroy und Boch, the premium manufacturer of ceramics for bathrooms, tableware and tiles, MicroStep developed a production cell with a water jet cutting system and a robot for the production of ceramic cisterns.

Find out more
An exceptional plasma oxyfuel cutting machine offers more flexibility for the Jan De Nul Group. A robot arm with oxyfuel technology on the plasma gantry cutting machine is able to process pipes with extraordinary dimensions up to 2,000 mm diameter and with wall thicknesses up to 80 mm – in addition to the possibilities of the multifunctional plasma cutting system.
Find out more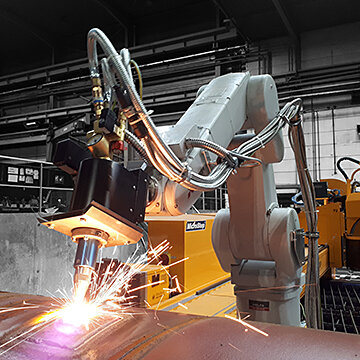 An oxy-fuel torch, which is positioned on the cutting gantry using a robot arm, enables the offshore expert Jan De Nul to fully process pipes with a diameter of up to 2,000 mm and wall thicknesses of up to 80 mm in combination with the kinematics of the robot.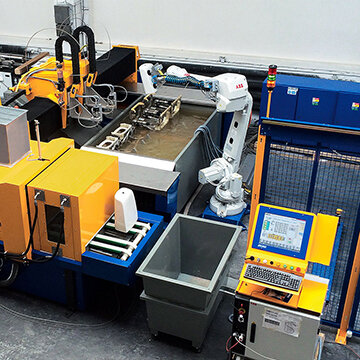 For the processing of ceramic tanks, MicroStep developed a production line for the Mondial brand, which belongs to Villeroy & Boch AG. Using a waterjet cutting system and a robot manipulator, the ceramic products are cut, cleaned and dried in a single system – all fully automatically.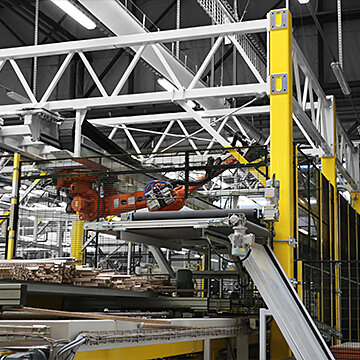 In a joint project with other partners (Photoneo, ABB), MicroStep realized a modular production cell with robot technology for the packaging of furniture. MicroStep took care of the development of the modular robot transfer unit for reverse robot assembly including automatic lubrication.

Automated panel processing
MicroStep develops and supplies customized solutions for the requirements of the shipbuilding industry: high-precision panel cutting machines and panel lines with extraordinary gantry widths and systems for processing large-sized sheets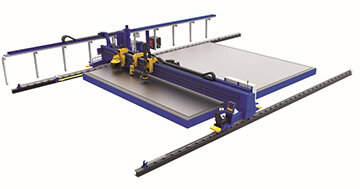 For shipyards around the world, MicroStep provides cutting solutions as part of automated production lines for the manufacturing of panels. The lines are capable of cutting extremely large parts with dimensions of up to 24 x 24 m
As a manufacturer known for innovations and customer-driven R&D projects, MicroStep has a rich history
of supplying the shipbuilding and offshore industries with emerging cutting-edge technologies. Over almost two decades the company has supplied numerous machines to well-established names in the industry such as STX, Damen, Vard/Fincantieri, Royal IHC, Lürssen, Meyer, Keppel and many more, a majority of which were combined plasma bevel cutting machines for automated welding preparation and sheet marking. Several shipyard enterprises became our global partners and enthusiastic cooperators in developing new solutions that make their production more reliable, safer and efficient in the long run. Among the equipment and automation solutions developed for the demanding shipyard environment were: automatic plate alignment via laser sensor, management of working zones of the cutting machine with an interface for an external automatic crane for automatic loading/unloading of material, barcode and QR code marking, Machine Production Management (MPM) software suite and also our well-known ACTG® system for auto-calibration of beveling tool stations.
2014 MicroStep obtained for the first time the participation in constructing a highly automated production line for shipbuilding – within the scope of a cooperation with the globally operating Finnish supplier for welding and production automation, Pemamek Oy. Thanks to this still ongoing partnership, whole new application horizons have opened up for MicroStep.
Cutting of large-scale welded panels
One of the prominent manufacturing application areas in shipbuilding is the production of large-scale panels with welded stiffening structures that are used to build decks and bulkheads of a ship. In modern shipyards, these panels are produced with fully automated and robotized high-tech flat panel lines consisting of several gantries. These provide the technologies for the welding of single sheets to make a panel and the subsequent cutting and marking processes, the positioning and welding of stiffening beams as well as the finalizing of the panel structures. Panel lines can be integrated directly into the shipyard's design- and manufacturing-data systems. Modern panel lines produce high-quality prefabricated components and subassemblies that allow for high-speed welding, even with hybrid laser welding processes.
MicroStep was chosen to deliver the cutting part of the panel lines – a robust DRM-PL gantry with effective cutting widths as big as 24 m. Besides the usual cutting heads (plasma or oxyfuel rotators) which enable bevel cutting of V, X, Y and K cuts, DRM-PL machines are equipped with a blasting or grinding unit and a marking tool. The blasting head is used to clean the primer from certain areas on the workpiece where, subsequently, stiffening beams are welded.
Advanced features for precise panel processing
Panel cutting machines need to have several special features. For example, the starting point of cutting has to be set in relation to the position of welds on the panel since the finished product has exactly defined weld positions. Therefore, the machines are equipped with a linear laser scanner to identify welds in any direction. Another feature is the simultaneous blasting/grinding and plasma marking with the plasma marking torch, which can rotate automatically around the blasting head to enable marking in different directions.
Plates of varying thicknesses, which make up the panels, and the welds between them require complex control of the plasma cutting process. Metal plates of different thicknesses require different cutting parameters such as cutting speed and current. The borders between different sheet thicknesses are linear with surface inclinations ranging from 1:4 to 1:3 so the parameter change is not sudden but linearly interpolated. The most complicated
issue with these machines is the cutting height control. The classic height control according to measured arc voltage is not enough in this case. If the border is on the top side of the panel, the cutting height is controlled in a robotic mode according to the defined shape of the weld. After a transition to a new thickness, new parameters first need to be measured by the control system and only then the height control according to arc voltage can be turned on again. Furthermore, when crossing welds, the height control needs to be deactivated.
Special solutions for shipbuildung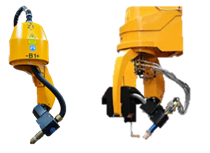 Bevel cuts on sheet metal and panels are among the most common cutting applications in shipbuilding: depending on the requirements MicroStep supplies the appropriate rotator. The picture shows a plasma rotator and an oxyfuel rotator.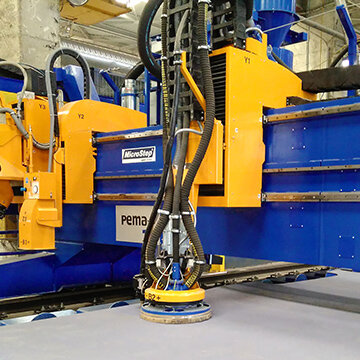 The gantries with extraordinary widths used in shipbuilding require the most diverse technologies: these often include a sandblasting system for panel processing to remove primers before welding.

Not only panel cutting systems with plasma or oxyfuel technology: MicroStep developed the laser cutting system MSF Max specifically for the requirements of shipbuilding.
The MicroStep DRM-PL is an elementary component of the technology park of Irving Shipbuidling Inc.. A rotator for CNC bevel cutting is installed on a 16 meter wide portal for processing panels.
Find out more
For cutting, the shipyard German Naval Yards Kiel has several MicroStep solutions in operation and is impressed by the accuracy and dimensional stability of the machine.

Find out more