MSF Pro series
The exclusive high-speed solution




for advanced laser cutting



Productmenu
Features
Technical specifications
Control
Software
Media
Offer request
The MSF Pro | Multifunctional 3D fiber laser cutting machine with a high automation level
MicroStep's precise laser all-rounder MSF allows for multi-functional processing of materials: 2D and 3D cutting of sheets with bevels up to 45°, drilling, tapping, countersinking as well as marking. The machine can be equipped with a turret drilling head for 6 tools that allows drilling up to 20 mm in diameter and tapping up to M16. Optionally, the cutting area can be extended by a pipe & profile cutting zone for processing of pipes up to 500 mm in diameter and a length up to 12 m, or hollow sections up to the size 350 x 350 mm.

Thanks to the patented ACTG® technology, MSF machines deliver consistent, highly precise bevel cutting results in a reliable process with minimum maintenance downtimes. Another innovative technology – ABP – offers the option of adding bevels to already cut parts, for example to thicker workpieces that were cut with plasma in advance. By default, MSF machines are equipped with automatic shuttle tables, whereas automatic material handling and sorting options for sheets, pipes and profiles are likewise available.

MSF machines are designed for production of highly accurate parts at high cutting speeds, with surprisingly low maintenance and operational costs. The outstanding dynamics of the MSF Pro series is achieved by a low-seated gantry, digital AC drives and precise planetary gears. The machines are equipped with state-ofthe- art fiber laser sources of powers up to 10 kW.








"The new solution enables us to meet the market's high demands in regards to both the quantity of ordered parts and their quality, which is vital since the cut parts are further being processed at a robotic welding station."
Ing. Mgr. Kristína Koláriková Kulichová,
Managing Director | Hykemont spol. s r.o.
Features
Technical specifications
Dimensions

Effective length of work area*
1,000 to 15,000 mm
Effective width of work area*
1,500 to 3,000 mm
Automatic shuttle table
included as standard
*Different configurations on request. Without shuttle table, other desired table dimensions can also be realized. The net area of the working zone can be operated with all available tools.

Tools

Possible number of tools
2
Possible cutting processes
fiber laser
Maximum material thickness
according to laser source

Pipe and profile cutting

Minimum diameter of pipe
from 20 mm
Maximum diameter of pipe
up to 500 mm
Minimum dimension of profile
14 x 14 mm
Maximum dimension of profile
350 x 350 mm
Maximum wall thickness
according to laser source
Minimum length of pipe
500 mm

Drilling

Drilling up to
Ø 20 mm
Tapping up to
M16
Maximum number of tools
6
Tool change
hydraulic
Maximum speed of spindle
5,200 rpm
Axial force
3,000 N
Duration for toll change
< 1 Sec.
Pressure force holder
1,170 N
Lubrication, cooling
external, oil – aerosol
Nominal torque
21 NM

Precision

Traverse speed
up to 180,000 mm/min.
Positioning speed Z axis
up to 50,000 mm/min.
Positioning accuracy Pa
0.07 mm according to VDI/DGQ 3441
Repeatability Ps
0.03 mm according to VDI/DGQ 3441
X, Y axis
linear guides, driven on both sides and helical toothed racks
Z axis
rack
Gantry type
massive steel gantry

Control & software

Control
iMSNC®
Main control panel
ergonomic 24" touchscreen control panel
Operating system
Windows 11 Pro (64-bit)
Additional operating units
portable operating unit (mounted on the main control panel)
All specifications subject to change
Software
Software from MicroStep® – developed especially for cutting
To allow you to concentrate fully on your production, our MicroStep® software solutions, drawings and cutting plans help you to intuitively convert them into finished components. Part of our product range also includes automation solutions for the organization of your entire cutting process.
Control
Handles even the most complex cutting tasks – the iMSNC® machine control
iMSNC® from MicroStep is one of the most advanced control systems for CNC cutting machines. It was developed to easily, reliably, and efficiently turn cutting plans into finished parts with the help of a clear and modern user interface.
MSF iMSNC® machine control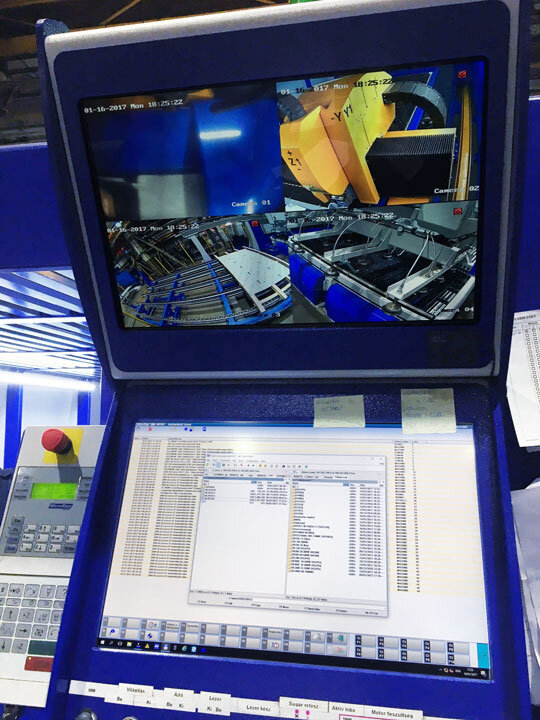 Intelligent solution for cross-technology work with the laser cutting system

The system consists of a stand-alone control console with a 24" TFT touchscreen monitor. If cameras are implemented in the interior, the existing touchscreen can be supplemented with an additional screen for displaying live images. In order to achieve maximum utilization and flexibility of our machines, the ergonomic control console offers you the possibility – parallel to running cutting processes – to nest new cutting programs and generate additional CNC codes. As the iMSNC® control system and all CAM software solutions come from our company, the software with its versatile modules can be individually customized for your production. Parameter databases for individual technologies enable consistently high quality under various circumstances. iMSNC® comes with multiple efficient evaluation tools for production process optimization. These provide you with the much-needed overview of current cutting orders, cutting times, cost calculations and machine utilization in day-to-day production.
Overview of important performance data:
MMi console and 24'' touchscreen
Display of existing cameras in the interior via additional screen (optional)
Efficient management of tool data
Very short programming times
Fast data transfer
Flexible and easy to use
Advanced cutting simulation for more work safety
Convenient contextual help via pop-up bubbles
Media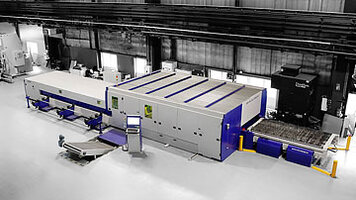 Video: Overview of the MSF series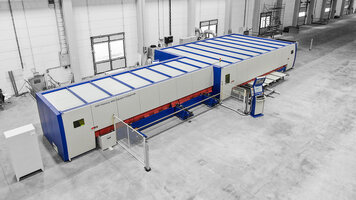 Cutting system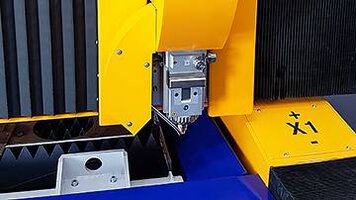 2D cutting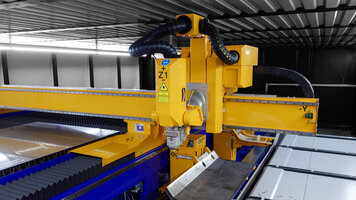 3D cutting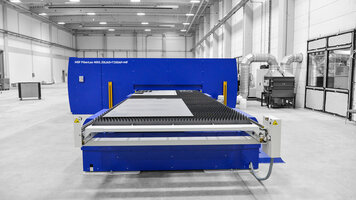 Automated material handling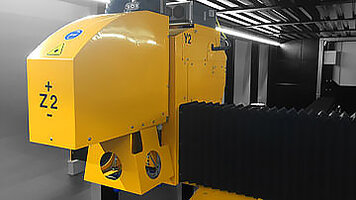 Marking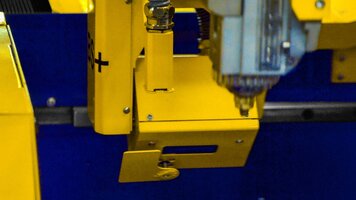 Scanning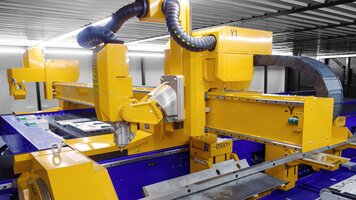 Pipe and profile processing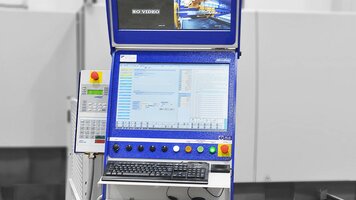 Control and operating unit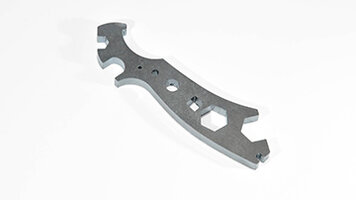 Cutting samples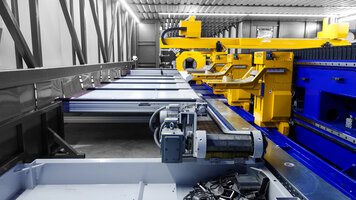 Other options