Plasma cutting system
CNC plasma cutting systems convince with economical and precise cuts and are unrivalled, especially for medium material thicknesses. Modern plasma cutting machines combine efficiency, lasting performance and multifunctionality.

What is a CNC plasma cutter in gantry design?
Gantry with tool stations, guideways and cutting table
Plasma cutting systems in gantry design consist of a steel gantry, a so-called gantry beam, driven on both sides and mounted on guideways. The tool stations (plasma torch, drilling support, scanner, etc.) are mounted on this beam. Thanks to the solid construction, they can be positioned vibration-free and accurate to a few hundredths millimetres. A plasma cutting table is positioned within the guideways, on which the cut parts are placed and processed.
Plasma power source and gas supply for the plasma cutter
In order to initiate and perform the cutting process in a plasma cutting system, the corresponding periphery is required. A power source supplies the necessary power for the plasma system, the gases required for the plasma beam are provided by a gas supply.
Filter system
The dusts and particles occurring during cutting with a plasma system are collected either by an extraction system directly at the plasma torch or at the plasma cutting table and the air is cleaned in a filter system.

Touch display with machine control
A main monitor is used to control the CNC plasma cutter and program the cutting tasks for the plasma system.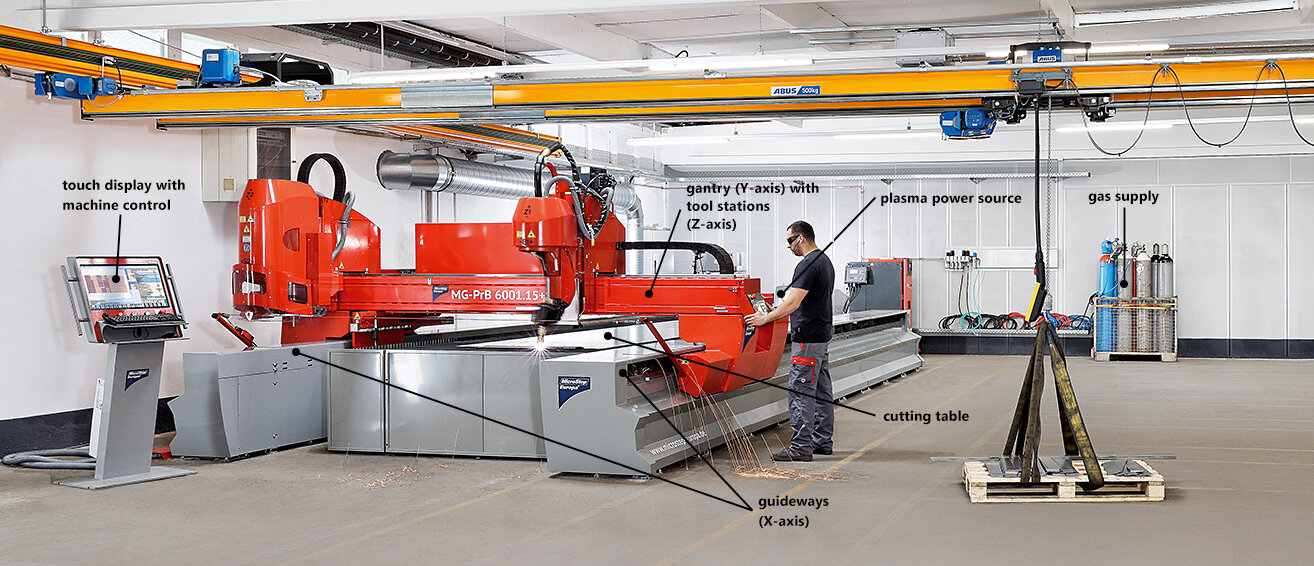 Advantages of CNC cutting systems …
… compared to other cutting methods (laser, waterjet, oxyfuel)
High economic efficiency through fast and precise plasma technology with unrivalled cost-benefit ratio
High level of automation
Extremely flexible when cutting all electrically conductive materials
High cutting speeds of the plasma torch when processing thin and medium material thicknesses (significantly faster than oxyfuel and waterjet)
Compared to the laser, shorter processing times for medium and higher material thicknesses
Nearly post-processing free cutting results
Multi-torch operation possible for fast parallel cutting
Only solution for the cutting of aluminium materials and various high-alloy steel grades when processing materials in the thin and medium thickness range
… in gantry design compared to robot cutting machines
Individual width and length of the working area from 1 to more than 20 metres wide and 1 to more than 50 metres long
Depending on the working area, simultaneous loading and unloading during the cutting process is possible (pendulum operation)
Shorter processing times due to the option of using several gantries on one system
Higher cutting speeds
Much more flexible through the use of multiple processing options (2D cutting, bevel cutting, marking, drilling, etc.)
… in gantry design compared to manual plasma cutters
High cutting quality
Almost no post-processing
Multifunctionality: Several processing options can be realized on one system
Automation capability
Up to date
With our newsletter you will be informed about all the latest novelties.
Plasma cutting systems in action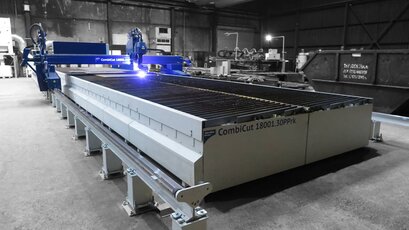 Plasma cutting machine for small and medium-sized companies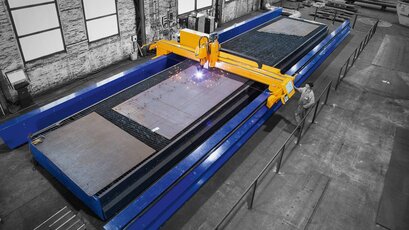 CNC plasma cutting system for multi-shift operation
Precise bevel cuts with the MG plasma cutting machine
Which materials can be processed with a plasma cutting machine?
In principle, all conductive materials can be processed with a CNC plasma cutting machine. In practice, CNC plasma cutters are used to process the following materials, among others: Mild steel (fine-grained steel, Hardox), stainless steel (V2A), chrome-nickel steel (V4A), aluminium, copper, brass, titanium, armour steel. The typical cutting range of a plasma system is between 1 mm and 50 mm – here the cutting results are of high quality and economically most efficient.
Plasma cutting
Multifunctionality & automation
Today, a modern plasma cutting system enables much more than just 2D and bevel cutting of sheets, pipes, profiles and domes. Drilling, countersinking, tapping, marking and labeling are also among the options that can be realized on a CNC plasma cutting machine in addition to the cutting technology. Furthermore, technologies for scanning can be integrated, e.g. for reading barcodes or for automatic determination of the position of metal sheets.
Multifunctionality
Strengths of MicroStep plasma cutting systems
For its gantry-guided plasma systems, MicroStep relies on a steel gantry, that is stiffened and driven with AC servo motors on both sides, for high dimensional accuracy and reproducibility of the cutting results with the best dynamics and strong driving power. Due to the modular design of the CNC cutting machines, different technologies can be combined and different geometries (sheet metal, pipe, profile, beam, dome) be processed on one plasma cutting system. Due to the automatic calibration of the used tools with the patented calibration unit ACTG®, MicroStep plasma cutting machines achieve permanently precise cuts and, thanks to the best components, can be used for a long time even in three-shift operation. With the MicroStep QualityHole® hallmark you can also be sure that all decisive factors for cutting small holes and fine contours have been optimized.
Plasma cutting systems in various industries
CNC plasma cutting systems are used in all sectors and industries in which materials such as mild steel, stainless steel and aluminium in the medium material thickness range are required and factors such as high-quality cutting results at high cutting speeds and simultaneously low cutting metre costs are decisive for the cutting process. A selection of industries and possible fields of application for MicroStep plasma cutting systems is given below:

Energy industry: construction of wind turbines and nuclear power plants, pipeline construction
Transport systems & vehicle construction: cabin construction, construction of trailers or tank trucks, prototype construction
Construction industry: construction of facades, roofing, fencing
Contract cutting & steel trade: separating and contour cutting for various requirements
Mechanical engineering: cutting of individual components for component groups
Plant & container construction, ventilation construction: pipe processing, pressure vessels, contour and bevel cutting in containers
Metalworking & heavy industry: pipeline construction, crane construction, repair of graders and commercial vehicles
Shipbuilding & shipyards: cutting of panels and production of parts for hull and keel
Overview of selected plasma cutting systems from MicroStep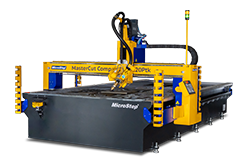 The MasterCut Compact series
Compact, flexible and versatile: the MasterCut Compact is available as a complete package with plasma source and filter system.
2D cutting
Bevel cutting
Marking
MasterCut Compact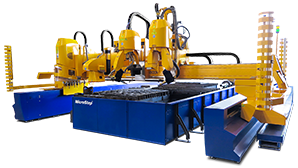 The MG series
The MG series is MicroStep's all-rounder and the pioneer in the industry in terms of multifunctionality and process reliability.
2D cutting
Bevel cutting
Drilling, tapping, countersinking
Marking
Pipe & profile processing
Dome cutting
Automation
Scanning
MG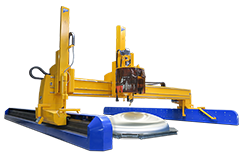 The DRM series
The DRM series is the strong specialist and, thanks to an enormous vertical manufacturing range, the cutting solution for almost every task.
2D cutting
Bevel cutting
Drilling, tapping, countersinking
Marking
Pipe & profile processing
Dome cutting
Automation
Scanning
DRM