Modern CNC cutting solutions:
multifunctionality in a new dimension
2D and 3D cutting, drilling, tapping, countersinking and marking – CNC portal cutting systems can be used to multifunctionally process sheet metal, pipes, profiles and domes
Metal construction companies are increasingly faced with the challenge of having to produce economically and efficiently with ever smaller batch sizes. Customers demand the best quality and fast delivery. This requires appropriate possibilities and the right interaction between man and machine in production. The specific requirements for a gantry cutting system are therefore manifold and demanding: precision, process reliability, flexibility, speed and easy handling are sought after.

Against this background, companies in the industry are increasingly relying on multifunctional machine solutions in the field of automation in order to be able to meet the increasing demands of existing and potential customers efficiently and with high quality in the future. CNC cutting systems should be able to combine a variety of processing technologies fully automatically – whether it is the processing of sheets, pipes, profiles or domes. This saves time in production (less material handling required) and space (one processing machine for several work steps). And it also creates the much-needed flexibility to adapt to ever-changing customer needs at short notice. Specifically, modern cutting solutions offer a variety of options: cutting precise holes and contours, working on weld edge preparations as well as drilling, countersinking, threading, marking, punching or scanning.

Medium-sized companies, but also large corporations such as Thyssenkrupp, Lürssen and Doppelmayr have been relying on multifunctional cutting technology from MicroStep for years, which is considered extremely reliable also in multifunctional applications – not least thanks to a number of patented technologies such as the automatic calibration of the tools used.
Combinable technologies
2D cutting: holes and other contours?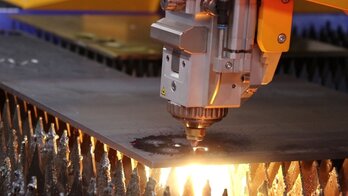 Whether from sheet metal, pipes or profiles – in the field of metalworking, any contours and holes are cut with the help of gantry cutting systems. Depending on the cutting process used (plasma, oxyfuel, laser or waterjet technology), cuttings from any type of metal are possible and smooth cutting surfaces, sharp edges and high angular fidelity can be realized.

Laser systems, for example, allow for an almost perfect and extremely fast cutting of thinner material thicknesses (among others stainless steel, structural steel, aluminium, copper, brass). Plasma cutting solutions, on the other hand, are predestined for the processing of medium material thicknesses and have improved considerably in quality compared to the laser. Nowadays, for example, holes in the ratio of hole diameter to material thickness 1:1 can be cut with almost perfect cylindricality in low-alloy materials. Especially when cutting small holes and micro joints, convincing cutting qualities with low dross formations are achieved throughout. As a result, this reduces the time-consuming post-processing of the components to be manufactured and expands the possibilities of implementing even extremely complex inner and outer contours in the highest quality. When it comes to processing particularly large material thicknesses, oxyfuel technology is the first choice. If no heat may be transferred to the material during cutting or if flammable materials are to be cut, one should rely on the extremely precise waterjet technology.
3D cutting: bevel cutting, for example for weld edge preparation?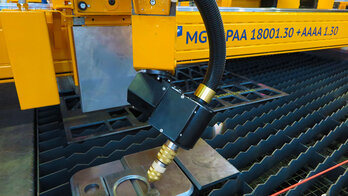 3D cutting is used in numerous applications in the metal industry: for contract cutting of individual parts, for constructions in shipbuilding, for material processing in the automotive industry, but also for container and apparatus construction. All cutting methods used for metal processing, such as plasma, oxyfuel, waterjet and laser, can be used for bevel cutting. Not only flat sheets, but also pipes, profiles and domes can be provided with V, Y and K bevels but also variable bevels, which are necessary for a variety of welding processes. With precisely calibrated tools as well as adaptive height control and bevel compensation, MicroStep cutting systems achieve exact results that can also be aprecisely repeated. Depending on the workpiece and cutting process, with MicroStep's 3D technology up to 67° bevels can be applied to flat material. Thanks to up to 120° tiltable rotator bevel heads, it is possible to precisely process domes including brim.

In combination with modern CAM software, a rotator and a laser scanner, it is even possible to apply precise bevels on already cut components. The ABP® technology developed by MicroStep replaces the need for another machine, such as a bevel robot.
Machining: drilling, countersinking, tapping?
Whether for head plates, saddle plates or flanges: a drilling cutting system hat enables drilling, countersinking, tapping and cutting with one machine minimizes material handling as well as complex measurement work and thus greatly facilitates production operations. Depending on the equipment, drilling applications on MicroStep gantry cutting systems allow drilling, countersinking and tapping (up to M33) in thickest materials up to 40 mm – with special solutions even a drilling diameter of up to 60 mm is possible. Drilling systems can be implemented in combination with plasma, oxyfuel, waterjet and laser cutting technology.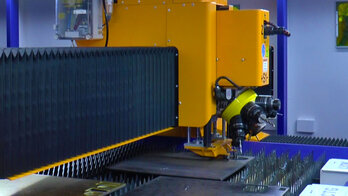 Tool magazines are available for quick process and tool changes, in which the tools are safely protected from dirt and damage (available for up to 16 tools). After drilling, you can automatically switch to a tool for countersinking or tapping. After completing the drilling, countersinking and tapping, the system then automatically switches to the cutting technology and continues the processing of the component.
Labeling parts: marking & punching?
Marking finished components and bearing material is one of the basics in production and administration. Depending on the material, cutting process or application area of the workpieces, different marking technologies are used, which can be implemented on modern CNC cutting systems. Plasma marking is supported by almost all plasma power sources with automatic gas console and is considered an economical marking technology that can also apply micro-percussion marking and welding point. Laser markers are predestined for fast, precise and high-resolution marking and labeling of components.
The needle marker is particularly used where the material is supposed to withstand heavy mechanical loads for a long time. Without affecting the surface of the material, the inkjet marker is suitable for contactless printing and marking. Labelling with purified water is a possibility that is mainly used where no heat is allowed to be applied to the material.
Possible cutting methods
Modern gantry cutting systems master various cutting processes that can be combined with other cutting processes – but also with many additional technologies:
Plasma cutting technology: Plasma cutting systems can be equipped with oxyfuel supports for higher material thicknesses as well as technologies for 3D cutting, but also for machining and marking. MicroStep's MG series is a pioneer in the industry, enabling a variety of processing steps on a single system – on flat material as well as on pipes, profiles and domes.
Laser cutting technology: The state-of-the-art laser cutting systems stand for high-precision and extremely fast cuts in 2D and 3D applications on sheets and, in addition, for efficient pipe and profile processing, but also for options for drilling, tapping and countersinking on sheets. In the field of multifunctional solutions in the laser cutting sector, many companies are already relying on MicroStep's extremely process-safe fiber laser solution MSF.
Waterjet cutting technology: Waterjet cutting systems are still the measure of all things if the material does not allow thermal influence. 2D cutting, bevel cutting for weld edge preparation, use of several waterjet cutting heads for parallel cutting operation – the possibilities of modern systems are manifold. In addition, CNC waterjet cutting machines can be combined with plasma cutting technology for fast and efficient cuts in the medium material thickness range.
Oxyfuel cutting technology: Oxyfuel cutting systems – or usually called flame cutting machines – are still indispensable when it comes to cutting from higher to highest material thicknesses. This applies to both the 2D and 3D cutting using a rotary bevel head with endless rotation or a triple torch. Today's flame cutting machines can also be combined with plasma cutting, marking technologies, drilling, tapping and countersinking. For maximum productivity, it is possible to implement multiple torches on one system for multiple torch operation.