MicroStep CompetenceCenter® South
Experience our technological solutions live!
In the MicroStep CompetenceCenter in Bad Wörishofen, which opened in 2015 – a stone's throw from the new company headquarters – you can experience our unique technological solutions in action. The latest generation of cutting systems are constantly available here for live demonstrations. In addition, our highly qualified technicians conduct training courses and workshops for customers here.
Next to cutting technology, the CompetenceCenter will in future also show other products from the field of industrial automation, which are of interest to both smaller companies and large corporations – from intelligent storage systems and technologies for efficient and effective material handling to state-of-the-art environmental technology.
The MicroStep CompetenceCenter is used not only for training purposes and live demonstrations, but also as an event center, for example for conferences, congresses or product presentations. In addition, MicroStep also makes the ultra-modern and exclusive rooms available to other companies and individuals for events as required.
More flexibility and efficiency: Multifunctional system solutions
Currently, three innovative series with laser and plasma technology are available for demonstration purposes in the MicroStep CompetenceCenter South: the plasma all-rounder MG, the space-saving plasma system MasterCut Compact and its counterpart from the laser technology, the MSF Compact.

The MasterCut Compact is a compact plasma cutting system that offers an opportunity to enter the world of high-quality bevel cutting with the MasterCut rotator. The plasma cutting system, designed especially for small and medium-sized companies, is offered in an attractive package with a power source and a filter system and can also be extended by a technology for oxyfuel cutting for higher material thicknesses.
With the MSF Compact, the principle of the MasterCut Compact was transferred to laser technology. The fiber laser system is the entry into high quality laser cutting and impresses with its space-saving design, precision, short setup times and cost-effectiveness.

The plasma cutting system of the MG series is the all-rounder among the MicroStep cutting machines. In the version available for demonstrations in the CompetenceCenter, a wide range of the technological possibilities of modern cutting systems is shown: a rotator for bevel cutting is integrated – for example for weld edge preparation –, the ABP® laser scanner also enables additional beveling. Furthermore, the system can be used for tapping, countersinking and drilling with a drilling spindle – on sheets, pipes and profiles. Systems of the MG series are used in numerous groups and large companies, such as BOSCH, Doppelmayr, Lürssen or thyssenkrupp.
Arrange your visit!
Would you like to experience live how a multifunctional cutting system from MicroStep can help you to make your processing of sheet metal, pipes, profiles and domes even more productive? Then arrange an appointment for a visit right away! Our experts look forward to welcoming you to the MicroStep CompetenceCenter South!
We would also be pleased to recieve you at the CompetenceCenter North at our branch in Dorsten (North Rhine-Westphalia) for training courses and demonstrations!

You can reach us by phone at: +49 8247 96294-50
Or by e-mail at: vertrieb@microstep.com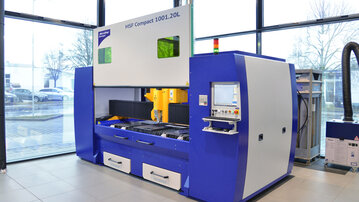 CompetenceCenter Bad Wörishofen
MicroStep Europa GmbH
Rudolf-Diesel-Straße 16
86825 Bad Wörishofen
Germany
MicroStep guest service

Discover Bad Wörishofen and surroundings with our guest guide!

We gladly assist you in booking a hotel room!
Contact our administration & events department at:
+49 8247 96294-01
Hotel recommendations
Hotel-Gasthof Adler
Parkhotel Residence
Steigenberger Hotel "Der Sonnenhof"