MSF Cut
Reliable laser performer
for 2D standard tasks
Productmenu
Features
Technical specifications
Control
Software
Offer request
The MSF Cut | Reliable 2D performer for laser cutting
When it comes to precise and process-safe completion of 2D cutting tasks, the MSF Cut is the right choice. Because the laser for standard 2D tasks is a reliable performer and with its strengths focuses on precision, cost-effectiveness and efficiency. The new series for fast and precise sheet metal processing is available in three formats with working areas of 3,000 x 1,500 mm, 4,000 x 2,000 mm and 6,000 x 2,000 mm. Laser sources with a power of up to 8 kW are available.
High-quality brand components combined with MicroStep's proven smart control and software ensure high reliability and lasting reproducibility of the precise cutting results. Thanks to the attractive pricing with comparatively low investment and operating costs, a fast return on investment is given.
The MSF Cut is more than a modern laser cutting system with high-quality components: The system is already well equipped for the manufacturing of the future! Because the fiber laser cutting system is optimized for the use of IndustryFusion, a manufacturer-independent open source networking solution for smart factories and smart products.



Features
Technical specifications
Dimensions

Effective length of work area*
3,000 to 6,000 mm
Effective width of work area*
1,500 to 2,000 mm
Automatic shuttle table
included as standard
*Different configurations on request. The net area of the working zone can be operated with all available tools.

Tools

Possible number of tools
1
Possible cutting processes
fiber laser
Maximum material thickness
according to laser source up to 8 kW*

*Higher laser power on request

Precision

Traverse speed
up to 180,000 mm/min.
Positioning speed Z axis
up to 50,000 mm/min.
Positioning accuracy Pa
0.07 mm according to VDI/DGQ 3441
Repeatability Ps
0.03 mm according to VDI/DGQ 3441
X, Y axis
linear guides, driven on both sides and helical toothed racks
Z axis
rack
Gantry type
massive steel gantry

Control & software

Control
iMSNC®
Main control panel
ergonomic 24" touchscreen control panel
Operating system
Windows 11 Pro (64-bit)
Additional operating units
portable operating unit (mounted on the main control panel)
All specifications subject to change
Software

Asper Basic
Asper Basic is the ideal tool for an easy and fast creation of NC programs for different cutting technologies (plasma, oxyfuel, laser or waterjet).
Control
MSF iMSNC® machine control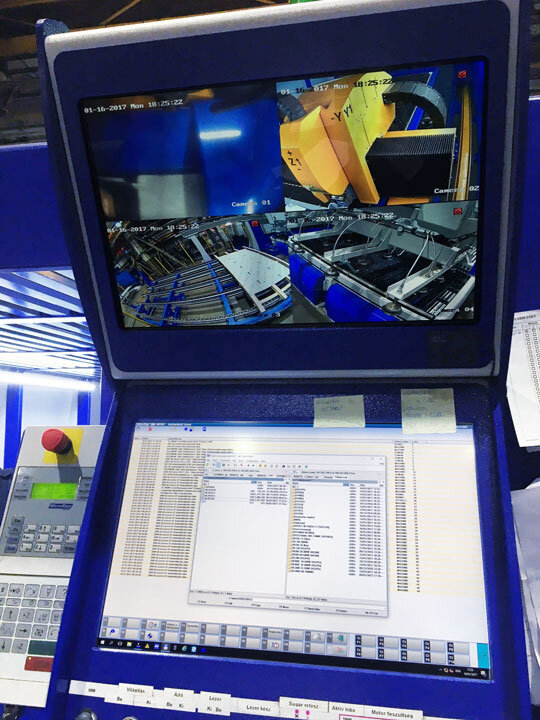 Intelligent solution for cross-technology work with the laser cutting system

The system consists of a stand-alone control console with a 24" TFT touchscreen monitor. If cameras are implemented in the interior, the existing touchscreen can be supplemented with an additional screen for displaying live images. In order to achieve maximum utilization and flexibility of our machines, the ergonomic control console offers you the possibility – parallel to running cutting processes – to nest new cutting programs and generate additional CNC codes. As the iMSNC® control system and all CAM software solutions come from our company, the software with its versatile modules can be individually customized for your production. Parameter databases for individual technologies enable consistently high quality under various circumstances. iMSNC® comes with multiple efficient evaluation tools for production process optimization. These provide you with the much-needed overview of current cutting orders, cutting times, cost calculations and machine utilization in day-to-day production.
Overview of important performance data:
MMi console and 24'' touchscreen
Display of existing cameras in the interior via additional screen (optional)
Efficient management of tool data
Very short programming times
Fast data transfer
Flexible and easy to use
Advanced cutting simulation for more work safety
Convenient contextual help via pop-up bubbles