Laser cutting machines are the right solution when it comes to precise cutting with minimum time expenditure. State-of-the-art laser cutting systems combine precision, speed and maximum multifunctionality.
Overview of MicroStep's laser cutting systems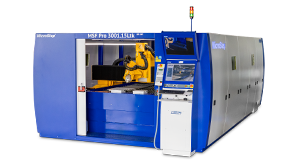 The MSF series
High speed and flexibility in 3D: the precise all-rounder MSF is a world novelty among laser cutting machines in terms of multifunctionality. No other laser system offers such a degree of vertical integration for sheet metal processing. Tubes and profiles can also be cut optionally.
2D cutting
Bevel cutting
Drilling, tapping, countersinking
Marking
Pipe & profile processing
Automation
Scanning
MSF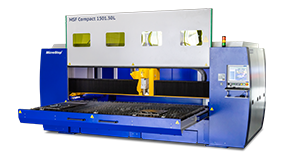 The MSF Compact series
The MSF Compact combines precise 2D laser cutting with compact design. It convinces above all by its small footprint with the usual high cutting quality of the laser cutting system. A manually retractable cutting table allows easy and uncomplicated loading and unloading of the laser machine.
MSF Compact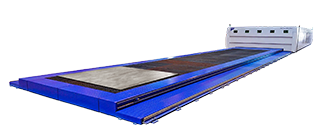 The MSF Max series
The MSF Max is the giant among the laser cutting machines. Developed for processing large-format sheet metal for shipbuilding, it enables precise high-speed 3D processing of flat material. Thanks to the safety cabin that moves with the machine, a working area of up to 50 m length and 6 m width is available for the laser machine.
2D cutting
Bevel cutting
Drilling, tapping, countersinking
Marking
Scanning
MSF Max
Safety cabins
A laser cutting machine is surrounded by a robust safety cabin and other safety devices to protect CNC machine operators from invisible and high-energy laser beams and the fast moving machine components.
Touch display with machine control
Control consoles with a large touch screen provide full control over the cutting process of the laser machine. They can be designed to be either fixed to the machine or free-standing. Additional monitors at the safety cabin allow permanent monitoring of the cutting process in the laser cutting machine with the help of camera systems as well as the simultaneous programming of further cutting jobs.
Gantry with tool stations, guideways and cutting table
The laser cutting head itself, together with other optional tool stations (e.g. drilling or marking), is attached to a steel gantry – the so-called gantry beam – which moves on a linear guiding system (guideways).
An automatic alternating cutting table ensures smooth and time-saving loading and unloading into and out of the cutting zone of the laser cutting system. While already cut parts are transported from a shuttle table to the unloading position, a table already loaded with new material sheets moves into the cabin of the laser machine for the next cutting task.
Filter system
The dusts, gases and particles occurring during laser cutting are collected either by an extraction system directly at the cutting head or at the cutting table and the air is cleaned in a filter system.
Up to date
With our newsletter you will be informed about all the latest novelties.
Advantages of laser cutting machines
Advantages of laser cutting systems
High flexibility, as a wide range of materials can be processed
Small contours and precise cutting edges at high cutting speed
High efficiency and high material utilization
Short processing times
Differences between fiber laser and CO2 laser
Technically, the difference between a solid-state laser and a CO2 laser lies in the properties of the optical laser medium used. While the CO2 laser is a gas laser (gas mixture of He, N2 and CO2), a fiber laser is a solid-state laser whose laser medium is a doped glass fiber. Although the CO2 laser has proven itself in many industrial cutting tasks, it is rarely used in new cutting machines, because the fiber laser can score with a variety of positive characteristics. These include:
High economic efficiency
Low operating costs and less maintenance
Cutting of non-ferrous metals possible
Better energy efficiency compared to the CO2 laser
Compact and space-saving design
Consistent beam properties at any point within the cutting zone
Laser cutting system in action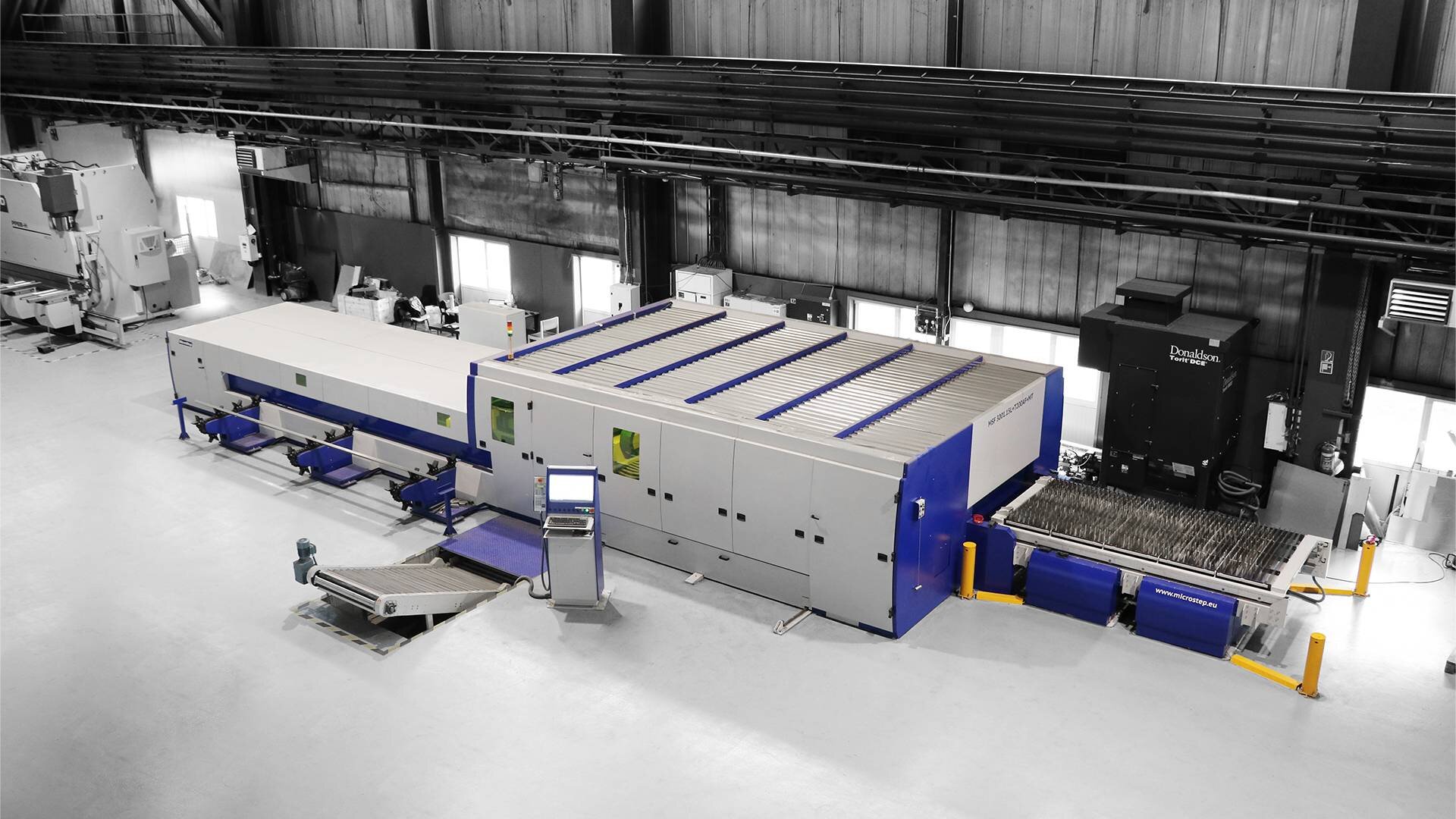 Laser machines can also be extended by pipe and profile cutting devices.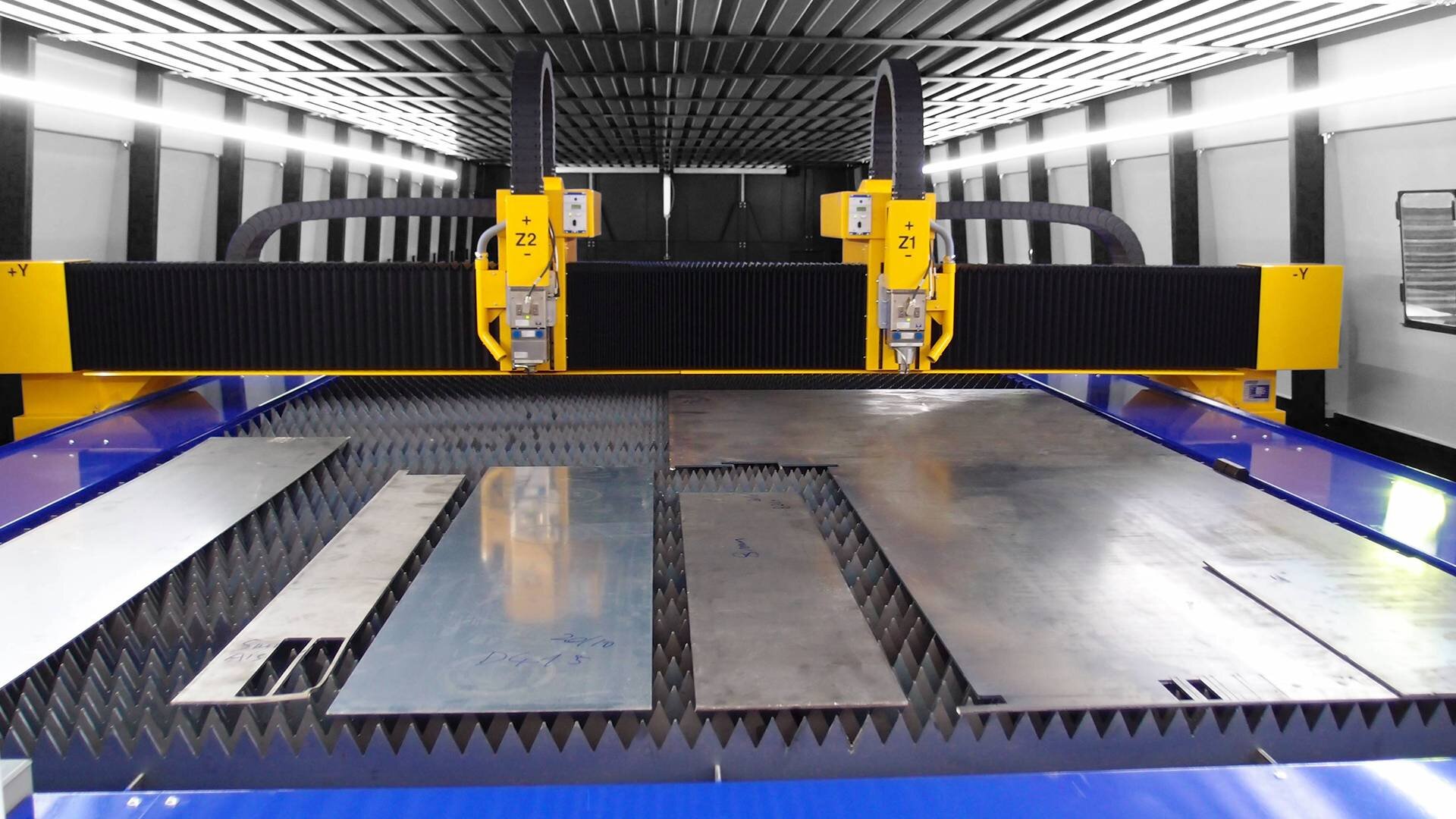 The cutting operation with two laser cutting heads ensures efficient and time-saving production thanks to the possibility of processing identical cutting jobs in parallel.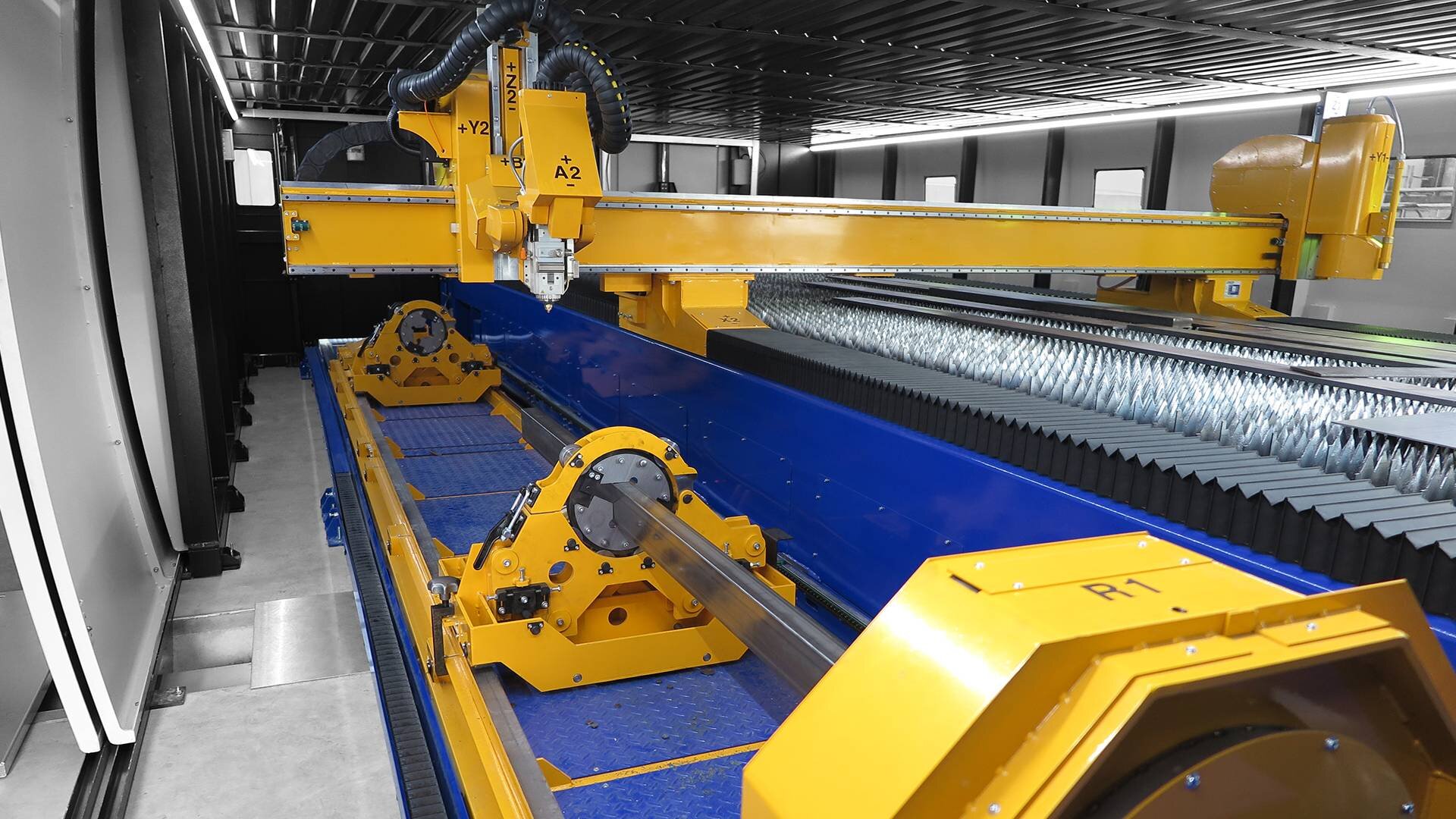 Automated material handling is a smart solution to save time in production.
Which materials can be processed with a laser cutting machine?
A laser machine can be used to cut many types of metal. With fiber lasers it is – in contrast to the CO2 laser – also possible to process reflecting metals with a high thermal conductivity. Materials with a material thickness of up to 25 mm (mild steel) can be cut.
Laser cutting
Multifunctionality & automation
Laser cutting machines can also be expanded with a wide range of options and automation solutions, enabling an additional increase in the efficiency of production processes. Options such as a pipe and profile cutting device or units for drilling and marking save production time, distances to further processing stations and protect the health of employees.
Multifunctionality
Strengths of MicroStep's laser cutting systems
Laser cutting systems from MicroStep impress above all with their flexibility, their high cutting speeds with maximum precision and their multifunctionality. In one work step, sheets or pipes can be cut, bevel cuts made and provided with drilled holes and markings. Another advantage is the space-saving, compact design of the laser cutting system.
A laser beam source from the market leader IPG Photonics provides an output of at least 1 to 5 kW as standard. Optionally, each laser cutting system can be equipped with a device for pipe and profile processing. This allows pipe cutting and profile cutting up to a material diameter of 500 mm. Depending on the requirements, MicroStep supplies three different versions of the pipe cutting devices in terms of workload (min/max pipe sizes, manual or automatic loading of pipes and unloading of the cut parts).
For easier operation and maintenance of the laser cutting system (besides the integration of the latest designs of cutting heads with automatic focus positioning and focus adjustment), additional standard functions have been integrated to increase the performance of the laser cutting machine: automatic sheet edge and sheet position detection via a capacitive sensor in the cutting head as well as automatic nozzle calibration and nozzle cleaning. In addition, a real-time camera is integrated into the nozzle calibration station for visual control of the laser nozzle condition.
The standard version of the laser cutting machines includes a shuttle table for fast and safe loading and unloading of flat materials; the laser cutting machines can optionally be extended with a smart and fully automated material handling system for sheets, pipes and profiles.
The laser cutting machines are suitable for cutting tasks that require high precision and high cutting speeds. At the same time, companies benefit from the low maintenance and operating costs thanks to the robust construction and durable machine components.
CNC laser in various industries
Thanks to their wide and flexible range of applications, laser cutting machines can be found in numerous industries that are generally dedicated to metalworking and cutting technology. However, CNC lasers are mainly used in industries where high precision, high efficiency and flexibility in material processing are important and where thinner material thicknesses are processed.

Automotive industry: material processing in the high-tech segment as well as in mass production, prototype construction, airbag and composite parts cutting
Precision engineering: manufacturing of small parts in the watch and jewellery industry
Semiconductor industry: cutting and separating lead frames, cutting through copper wires, cutting SD cards
FAQ: We answer your questions about laser cutting systems
When do you use laser cutting machines?
With laser cutting machines, a wide range of materials can be cut with high precision with minimal time investment. The cut edges are very clean and therefore almost free of reworking, the heat-affected zone is very narrow and therefore the structural change is very small. The technique is extremely flexible; there are hardly any limits to the geometries that can be cut. The technology shows its greatest strengths in sheet thicknesses of less than 10 mm, although the development of ever more powerful laser sources also enables economical cuts in increasing thicknesses.
CNC laser cutting systems are used in numerous industries because of their diverse and flexible applications. Especially when high precision, high speeds, economic efficiency as well as flexibility in material processing are important and the processing of predominantly thinner material thicknesses is carried out. This is the case in the automotive industry for the construction of prototypes or mass production, as well as in plant construction, facade construction, shipbuilding and numerous other industries in the field of metal processing.
When is it worth buying a new laser cutting machine?
The purchase of a laser cutting machine is particularly worthwhile if you either have to cut materials in thin material thickness range with the highest precision and the greatest possible processing speed, or you want to process a wide range of materials in the to medium sheet thickness range with only one technology and high precision. Depending on the required accuracies and the tolerances to be maintained, as well as the required cutting speed, laser technology is without alternative. However, the investment costs associated with the purchase are usually higher than those associated with other technologies. As a rule, the higher the utilisation, the quicker the purchase pays off. Read more on the topic of "What does laser cutting cost".
In a individual consultation, Microstep will calculate for you at what point the use of my machine is economical. Read more about technology consulting.
What are the advantages of laser cutting machines from the manufacturer MicroStep?
MicroStep laser cutting systems are characterised by precision, flexibility, multifunctionality and automation. In one work step (with appropriate equipment and system configuration) sheets or tubes can be cut, bevel cuts can be made and holes and markings can be added. The laser cutting systems have a modular design and can thus also cover extraordinary processing sizes - in addition, top components and several automation systems (including automatic sheet edge detection, nozzle calibration and cleaning) enable permanently precise and process-reliable operation. Furthermore, laser cutting machines from MicroStep can be expanded with a variety of automation systems for even more efficient production: from the automatic shuttle table to the smart material handling system with storage solution, sorting function and more.
Which maintenance work do I have to take into account for laser cutting machines?
Regular maintenance of a laser cutting system is important in order to maintain the high functional reliability and precision in the long term. MicroStep offers fibre laser systems that have a much lower maintenance requirement than CO2 laser systems, as the fibre lasers used completely eliminate the otherwise maintenance and cost-intensive effort of a CO2 laser source. In addition, the robust design and the durable machine components of the laser cutting system offer excellent conditions for long-term high-quality production. More on the subject of maintenance.
Why do professional laser cutting machines reduce operating costs in the company?
A decisive advantage of the fibre laser machine is the saving of operating costs. Due to high material utilisation and maximum precision in the cutting process, less rework is necessary. The high efficiency of the laser technology used and the short processing times reduce the unit costs, which means that a high level of profitability can be achieved. In addition, the multitude of automation solutions frees up employees for other productive tasks.
When do I decide which MicroStep laser cutting machine to use?
Is there an entry-level machine?
The compact MSF Compact laser cutting system stands for precise 2D laser cutting on the smallest footprint and is perfectly suited for cutting small to medium quantities. It is available in three different processing surfaces and with laser sources from 1 to 6 kW as well as with a manually extendable cutting table. More efficiency and higher production speed is offered by the low-cost 2D laser cutting system MSE SmartFL. Due to the automatic shuttle table integrated as standard and other possible processing surfaces, it is more powerful and generates more output in less time. The system can be equipped with laser powers of up to 12 kW.