Flame cutting system
Flame cutting machines convince by their robust construction, precision and performance with large material thicknesses.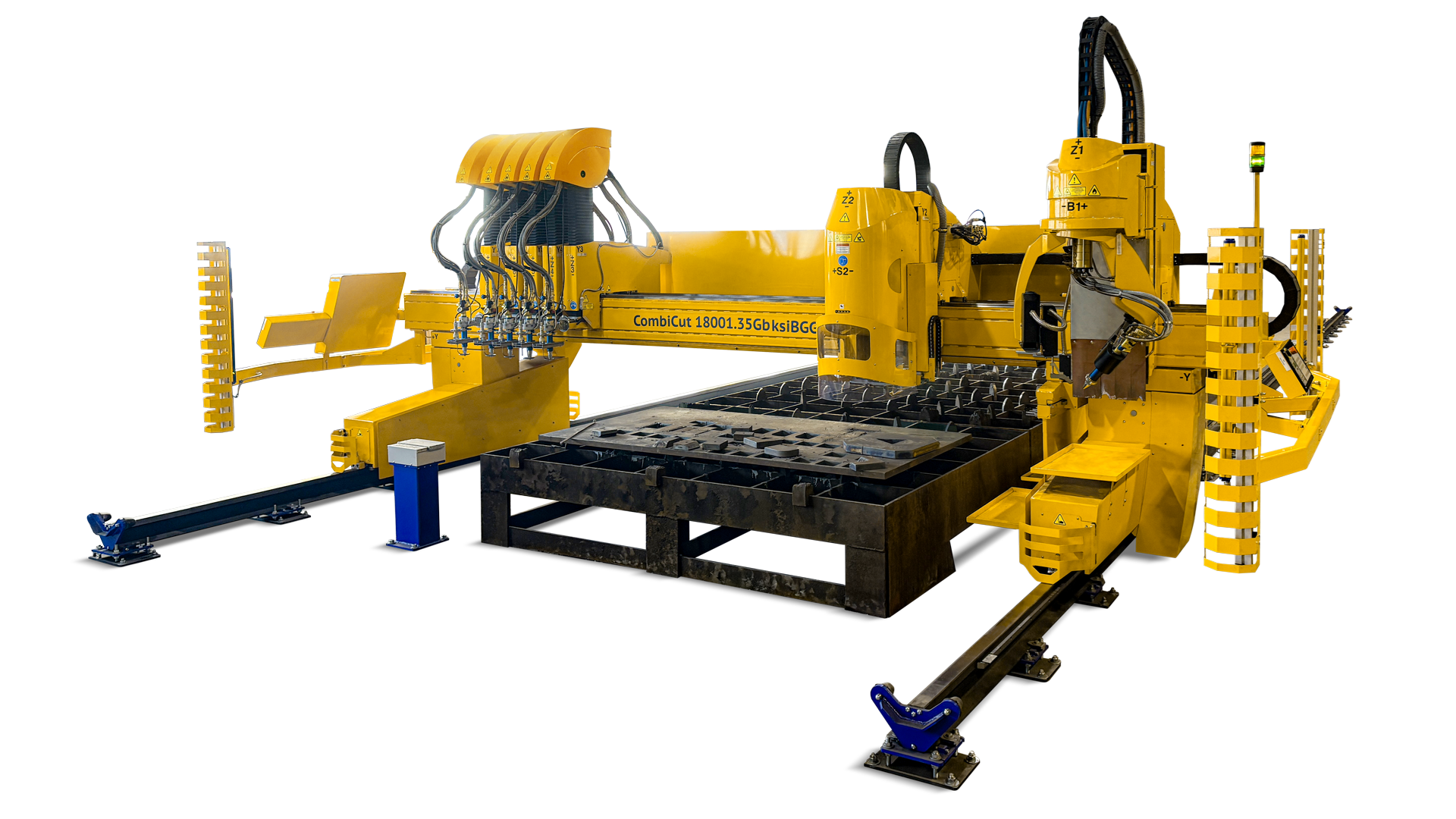 What is a CNC flame cutting machine in portal design?
Gantry with tool stations, guideways and cutting table
Portal cutting systems consist of a steel gantry driven on both sides and mounted on guideways, a so-called gantry beam. The tool stations (oxyfuel torch, drilling support, scanner, etc.) are mounted on this beam, which can be positioned vibration-free and accurate to a few hundredths of a millimeter thanks to its solid construction. The cutting table of the oxyfuel cutting machine is positioned within the guideways – on it the cut parts are placed and processed.
With this design, enormous working areas can be achieved on systems with oxyfuel torches. Depending on the requirements, gantry widths of up to 8 meters and cutting table lengths of up to 50 meters are possible.
Gas supply and combination with plasma technology
In order to initiate and perform the cutting process on a flame cutting system with oxyfuel technology, the corresponding periphery is required. The gases necessary for the oxyfuel flame are ensured by a gas supply. For more economical and precise cuts with medium material thicknesses, plasma cutting technologies can also be additionally implemented on an flame cutting machine. In this case, a plasma power source is then required to provide the necessary power and also gases that are supplied via the gas supply.
Touch display with machine control
The external control panel with a large touch screen allows the programming of cutting tasks and the monitoring of current cutting jobs of the flame cutting machine.
Filter system
The dusts, gases and particles produced during cutting with an oxyfuel torch are collected by an extraction system on the cutting table and the air is cleaned in a filter system.
Advantages of CNC flame cutting machines
Advantages of the flame cutting systems
Applicable for the medium to large material thickness range
Low investment costs
High efficiency thanks to economical parallel cutting operation with several oxyfuel torches
Lower consumables costs
Little post-processing necessary
Advantages of automated CNC flame cutting systems
CNC flame cutting machines are particularly beneficial for metal processing companies that regularly face cutting tasks with large material thicknesses or manufacture steel constructions. Increasing batch sizes and orders require an equally increasing degree of automation, so automated flame cutting systems play a major role in the steel construction sector.
Higher level of precision
Considerable time saving thanks to efficient parallel cutting operation with several oxyfuel torches
Multifunctionality thanks to numerous options such as drilling, tapping, countersinking or marking
Complex cutting of seams on different material thicknesses possible
Up to date
With our newsletter you will be informed about all the latest novelties.
Oxyfuel cutting systems in action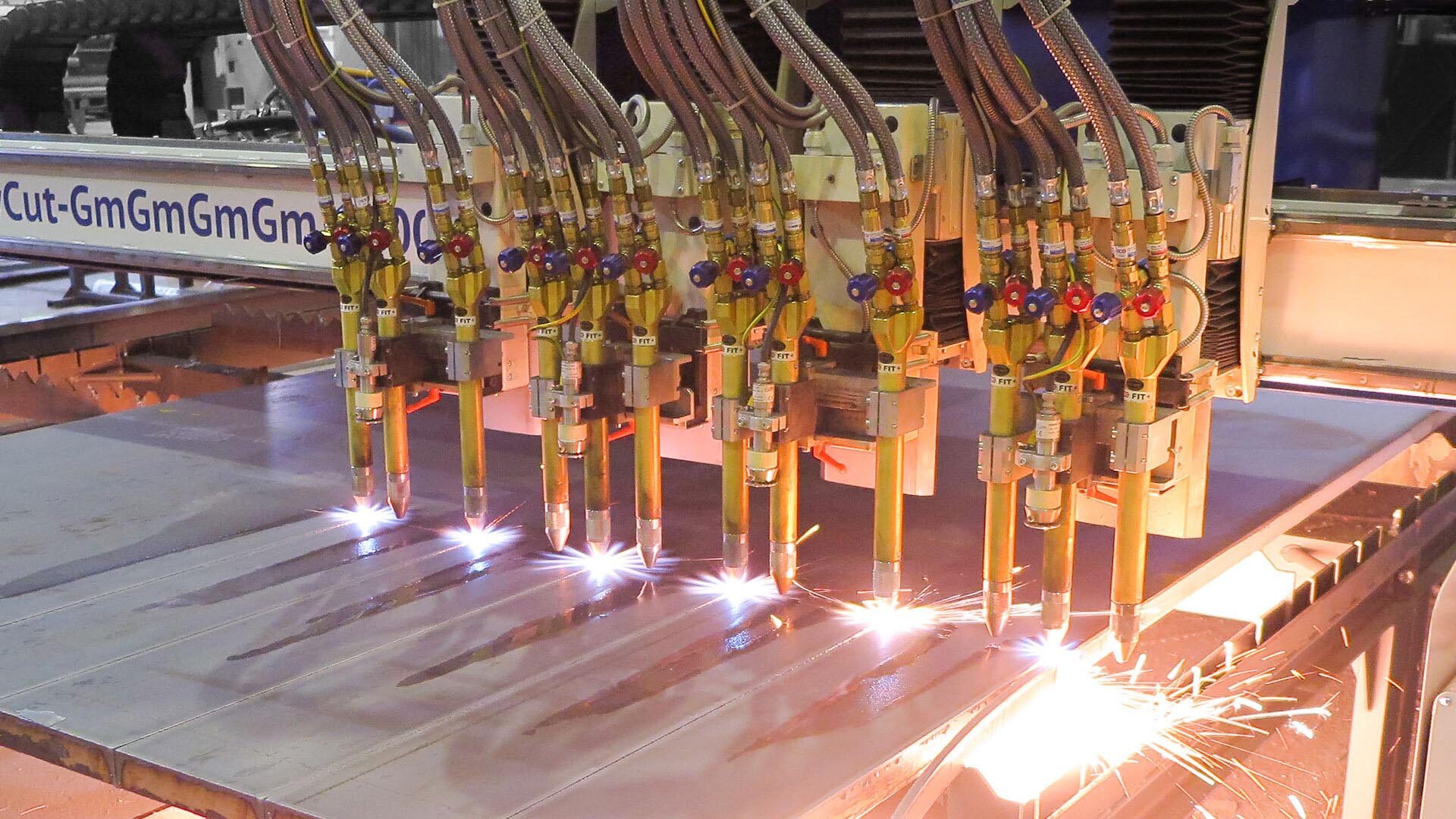 A flame cutting system with several oxyfuel torches in parallel cutting mode enables efficient cutting processes. enable efficient cutting processes.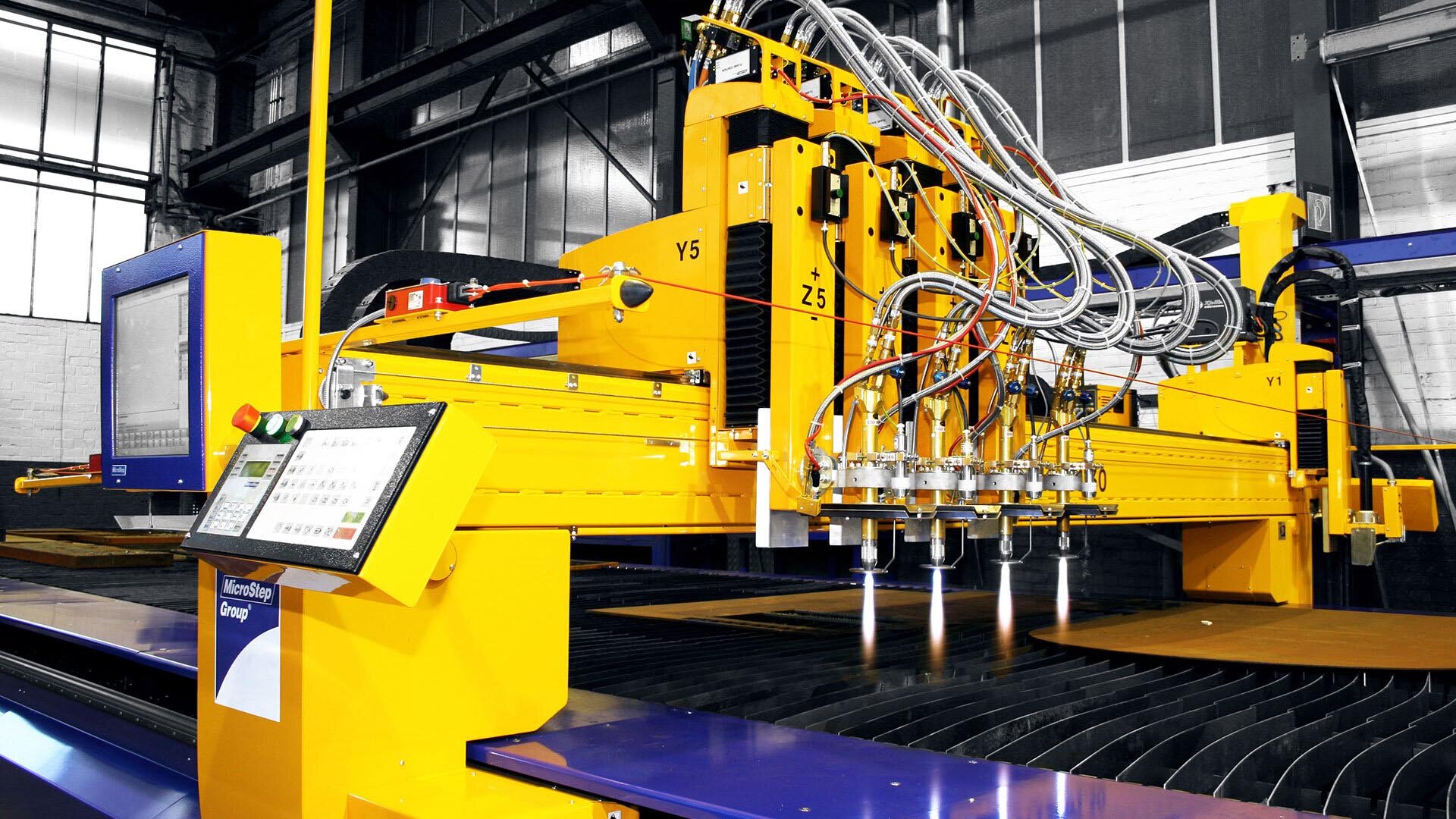 The CombiCut oxyfuel cutting machine is ideally suited for multi-shift operation and has been designed for cutting tasks in the high material thickness range.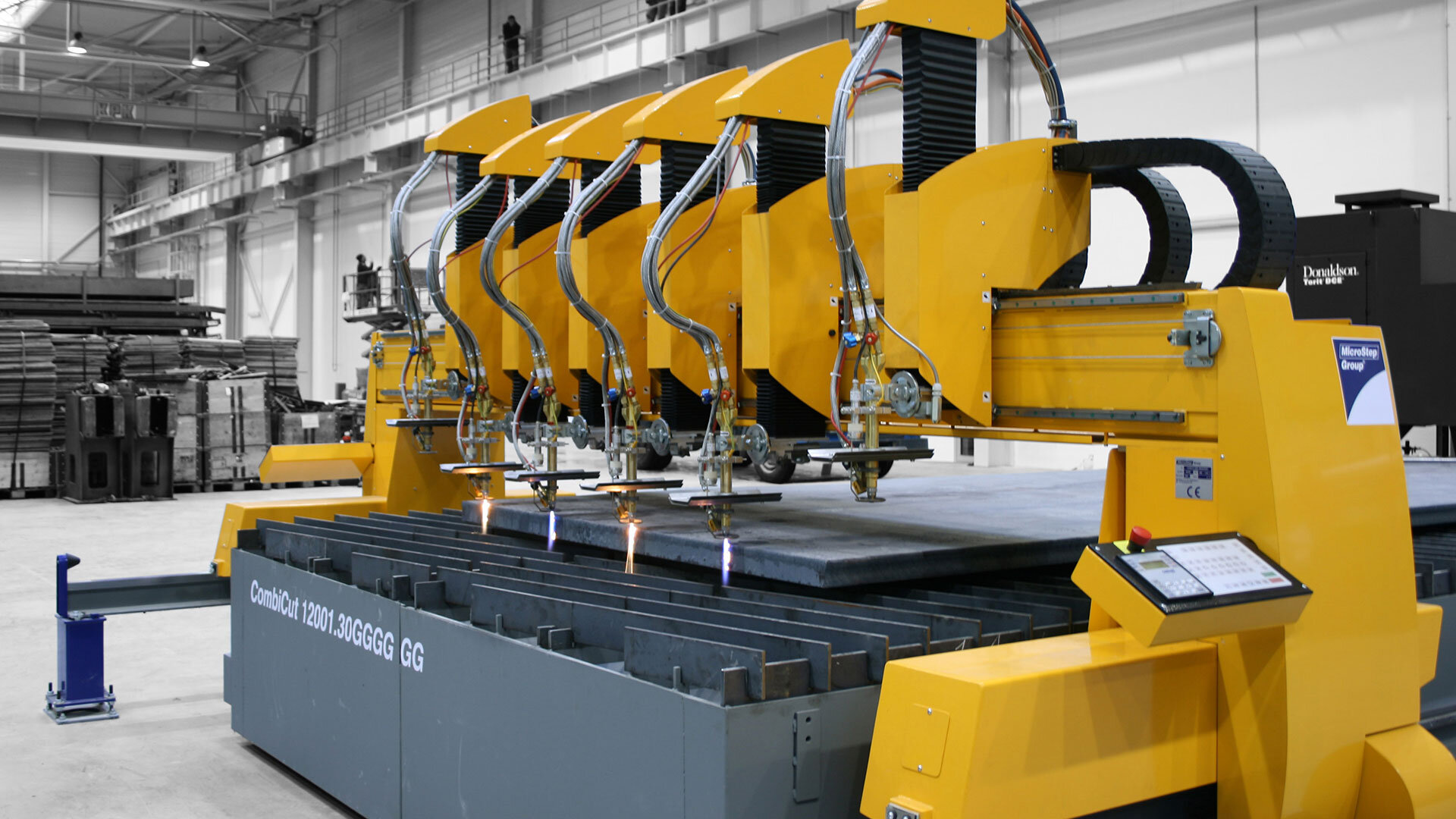 With up to 8 oxyfuel torches on a flame cutting system at the same time, productivity and cutting efficiency can be increased many times over.
Which materials can be processed with an oxyfuel cutting system?
CNC flame cutting is used for thick steel plates and is primarily suited for processing unalloyed or low-alloyed metals. Therefore, the cutting process with a flame cutting system is indispensable in heavy industry and steel construction.
Flame cutting
Multifunctionality & automation
A lot has happened since the beginnings of flame cutting. For example, in addition to technical refinements, modern flame cutting machines are increasingly focusing on multifunctionality and automation. Next to mere oxyfuel cutting systems, modern machines can also combine plasma and oxyfuel cutting technology, the processing of pipes and profiles as well as other options – such as drilling or marking – on one cutting system.
Multifunctionality
Strenghts of MicroStep's oxyfuel CNC systems
MicroStep counts on a resistant and multifunctional construction of the oxyfuel cutting system. This makes the flame cutting systems, especially in heavy industry, the ideal production aid – even under difficult environmental conditions. The flame cutting machines convince with a high degree of reliability and durability.
Multifunctionality is standard with MicroStep: the flame cutting machines impress with a multitude of combinable options. For example, up to eight oxyfuel torches can work in parallel on the solid gantry. Plasma and oxyfuel technology can also be combined or a device for processing pipes and profiles can be integrated. Options such as drilling units up to 40 mm diameter or various marking units can also be realized on the CNC flame cutting systems.
Thanks to the automatic calibration of the used tools with the patented calibration unit ACTG®, MicroStep flame cutting systems achieve permanently precise cuts and are durable and also suitable for three-shift operation due to best components.
Flame cutting systems in various industries
Flame cutting machines – both mechanized and manual systems – are used in all sectors and industries where high cutting speeds with high efficiency and comparatively low investment costs are decisive criteria. Therefore the flame cutting process is suitable for industries and areas such as:
Vehicle construction: construction and repair of trucks, heavy transporters, agricultural vehicles
Transport systems: cabin construction, construction of trailers or tankers, prototype construction
Construction industry: construction of facades, bridge building
Contract cutting & steel trade: separating and contour cutting for various requirements
Mechanical engineering: cutting of individual components for component groups
Metalworking & heavy industry: pipeline construction, crane construction, repair of graders and commercial vehicles
Shipbuilding & shipyards: cutting of panels and production of parts for hull and keel
Fire department & THW (Federal Acency of Technical Relief): basic equipment for the fast cutting of metal parts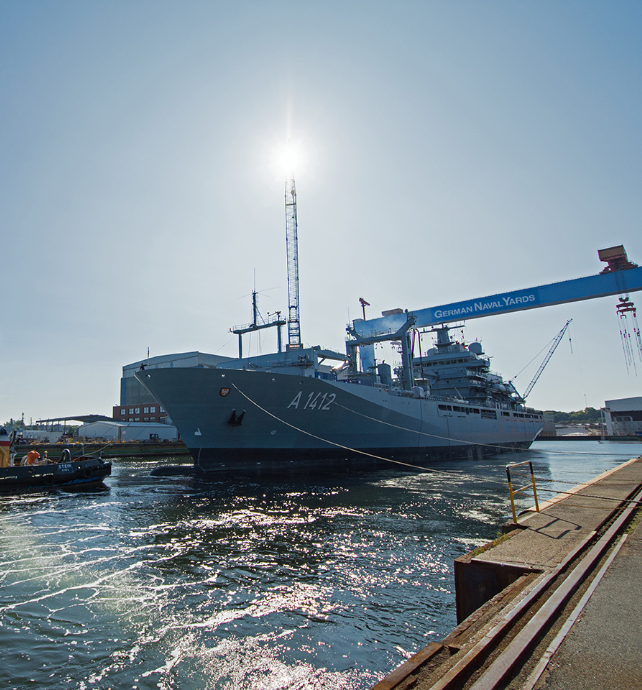 Overview of MicroStep's oxyfuel cutting systems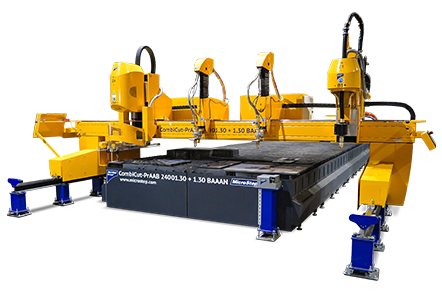 The CombiCut series
The CombiCut series is the strong specialist and, thanks to an enormous vertical integration, the cutting solution for almost any task.
2D cutting
Bevel cutting
Drilling, tapping, countersinking
Marking
Pipe & profile processing
Automation
Scanning
CombiCut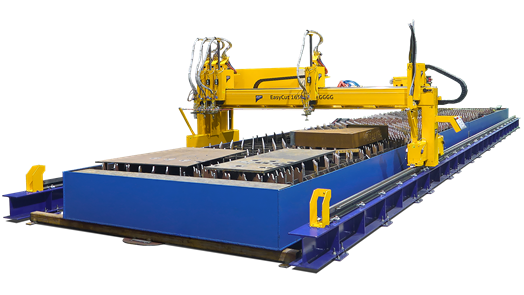 The EasyCut series
The EasyCut series stands for modern oxyfuel cutting at the highest level. It is the ideal system for precise and cost-effective oxyfuel cutting and impresses with its robust construction.
2D cutting
Plates
Marking
Scanning
EasyCut