The WaterCut series
Powerful 2D and 3D waterjet performer
Productmenu
Features
Technical specifications
Control
Software
Media
Offer request
The WaterCut series | Precise and compact in 2D & 3D
The WaterCut is a solid and very precise CNC guiding machine in gantry construction, especially developed for continuous use in waterjet cutting (with or without abrasive). In its newest version, the cutting system can also be equipped with a waterjet rotator for 3D processing of flat material for efficient weld seam preparation up to 45°. The high dynamics of the system are transferred by a low-set machine gantry, digital AC servo motors with backlash-free gears and precise, stainless steel linear guides in all three axes. In combination with a high-pressure pump, the WaterCut can process almost any material without thermally affecting it during the cutting process, e.g. all metals, hard stone, marble, bullet-proof glass, ceramics, plastics, corrugated cardboard, foams and composite materials can be cut. Thanks to the gantry that is driven and guided on both sides, the waterjet cutting system achieves very good cutting qualities, sharp angles and corners as well as an extremely high contour accuracy.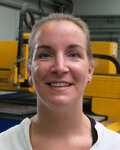 "The investment has paid off for us. I am very satisfied with MicroStep's service and sales. A very big issue is the flexibility, which was not there before. Here, the distances are short and in-house you are much more flexible."
Janina Melchers,
Management | MFP – Maschinen-Förder-Produkte GmbH+Co. KG
Features
Technical specifications
Dimensions

Effective length of work area*
1,500 / 2,000 mm
Effective width of work area*
1,500 / 2,000 / 3,000 / 4,000 mm
* Different configurations on request. The net area of the working zone can be operated with all available tools.

Tools

Possible number of tools
2
Possible cutting processes
waterjet
Possible number of bevel cutting heads
1
Maximum material thickness waterjet
according to pump up to 150 mm

Precision

Positioning speed
up to 40,000 mm/min.
Positioning accuracy
according to DIN 28206 / depending on the feature version up to the hundredths range
X, Y axis
linear guides, driven on both sides and helical toothed racks
Z axis
ball screw

Control & software

Control
iMSNC®
Main control panel
17" screen with keyboard and mouse
Operating system
Windows 11 Pro (64-bit)
Additional operating units
1 operating unit on the gantry
All specifications subject to change
Software
Software from MicroStep® – developed especially for cutting
To allow you to concentrate fully on your production, our MicroStep® software solutions, drawings and cutting plans help you to intuitively convert them into finished components. Part of our product range also includes automation solutions for the organization of your entire cutting process.

Asper Basic
Asper Basic is the ideal tool for an easy and fast creation of NC programs for different cutting technologies (plasma, oxyfuel, laser or waterjet).

Asper Nesting
With Asper Nesting, you can easily and intuitively nest component drawings into efficient cutting plans.

MPM Production Management
MPM forms the basis for automated cutting. It automatically nests complex cutting jobs and projects on the right material and distributes the cutting plans to cutting machines for processing.
Control
Handles even the most complex cutting tasks – the iMSNC® machine control
iMSNC® from MicroStep is one of the most advanced control systems for CNC cutting machines. It was developed to easily, reliably, and efficiently turn cutting plans into finished parts with the help of a clear and modern user interface.
WaterCut iMSNC® machine control
The intelligent solution for multi-technology work
The system consists of the machine control incl. MMI console and 17" monitor. In addition, there is an LCD operator unit mounted on the gantry as standard. In order to achieve maximum utilization and flexibility of our machines, the ergonomic control console offers the opportunity to nest new cutting programs and generate new CNC codes during an ongoing cutting process. As the iMSNC® control system and all CAM software solutions come from our company, the software with its versatile modules can be individually customized for your production. Parameter databases for individual technologies enable consistently high quality under various circumstances. iMSNC® comes with multiple efficient evaluation tools for production process optimization. These provide you with the much-needed overview of current cutting orders, cutting times, cost calculations and machine utilization in day-to-day production.
Overview of important performance data:
MMI console with 17'' monitor
Efficient management of tool data
Very short programming times
Fast data transfer
Flexible and easy to use
Advanced cutting simulation for more work safety
Convenient contextual help via pop-up bubbles
Media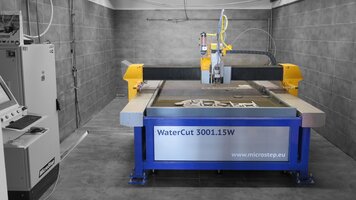 Cutting system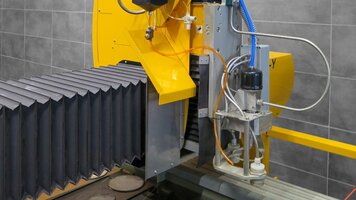 2D cutting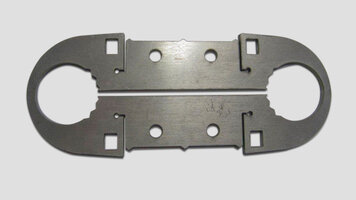 Cutting samples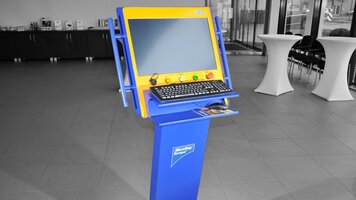 Control and operating unit