The WaterCut series
2D waterjet cutting at the highest level
The WaterCut series | Precise and compact
The WaterCut series offers highly precise and reliable waterjet cutting machines designed for 2D waterjet cutting or a combination of waterjet and plasma. Besides a single tool station, the WaterCut can be equipped with a multi-tool station with outer span 1200 mm, carrying up to 4 water jets on a single Z axis, or a small drilling unit for piercing of sandwich materials.
The machine is equipped with MicroStep's efficient and userfriendly CNC control system iMSNC®, which, by default, supports 5 waterjet cut quality settings for different edge finishing. It can be chosen between the highest speed or the best edge quality whereby other customization of tool parameters is also available: for example, adjustment of cutting speed in the corners of parts. Thus, the machine is perfect for achieving an optimal balance between quality, performance and cutting costs.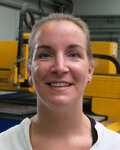 "The investment has paid off for us. I am very satisfied with MicroStep's service and sales. A very big issue is the flexibility, which was not there before. Here, the distances are short and in-house you are much more flexible."
Janina Melchers,
Management | MFP – Maschinen-Förder-Produkte GmbH+Co. KG
Features