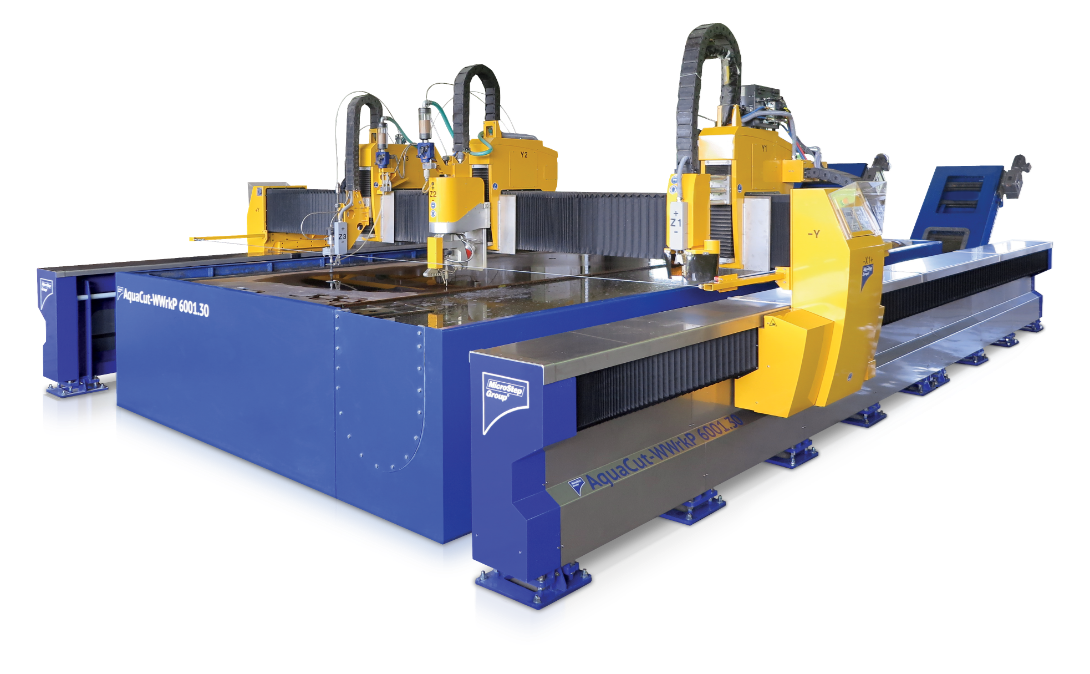 Waterjet cutting systems are used when thermal influences on the material are unwanted and highest precision is required. They convince with flexible processing options for a multitude of cutting tasks on a wide variety of materials.
Overview of MicroStep's waterjet cutting systems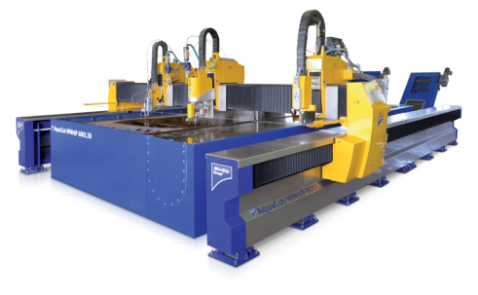 The AquaCut series
The AquaCut series enables high-precision cuts of almost all materials without affecting them thermally. Thanks to numerous options, such as additional marking and drilling units, the waterjet system, which can also be equipped with plasma supports, meets all requirements for flexibility, efficiency and precision.
2D cutting
Bevel cutting
Drilling, tapping, countersinking
Marking
Pipe & profile processing
Automation
Scanning
AquaCut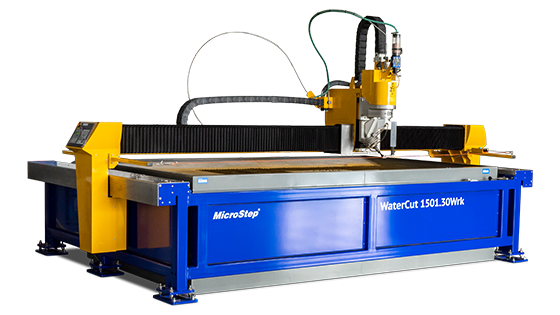 The WaterCut series
Without thermal influence, almost any material can be cut and processed with a WaterCut waterjet cutting system. Whether steel, stone, glass or wood – the cutting machine enables precise cuts even in parallel cutting operation with a second waterjet cutting head.
2D cutting
Marking
Scanning
WaterCut
Structure of a waterjet cutting system in gantry design
Gantry with tool stations, guideways and cutting table
Gantry cutting systems with waterjet technology consist of a steel gantry driven on both sides and mounted on guideways, a so-called gantry beam. The tool stations (waterjet cutting head, drilling support, scanner, etc.) are located on this beam, which can be positioned vibration-free and accurate to a few hundredths of a millimeter thanks to its solid construction. A stable waterjet cutting table is positioned within the guideways, on which the workpieces are placed and processed. All components of the waterjet system are hard chrome-plated to protect against corrosion and abrasive.
Touch display with machine control
On a main monitor, the waterjet cutting machine is controlled and the cutting tasks are programmed.
High pressure pump
An external high-pressure pump provides the required waterjet pressure.
Abrasive conveyor systems
If required, the waterjet cutting machine contains an abrasive agent container which transports the abrasive agent (abrasive mixed with the waterjet) to the waterjet cutting head depending on the dosage setting.
Advantages of a waterjet cutting machine
Advantages compared to other cutting methods
Flexibility: processing of almost any material possible
Material preserving cutting process: no thermal influences
Clean cut edges and no structural changes
Low environmental impact: no formation of dust and vapours
Efficiency: possible parallel cutting operation with several cutting heads
CNC waterjet cutting with and without abrasive
When using waterjet technology, a distinction is made between two possible variants: cutting with abrasive material and cutting with pure water.
A so-called abrasive material is garnet sand which is added to the waterjet and thus ensures a higher abrasion of the material. This process is mainly used for working hard metals, plastics and types of stone.
Soft or very thin materials are cut with pure water.
Up to date
With our newsletter you will be informed about all the latest novelties.
Waterjet cutting systems in action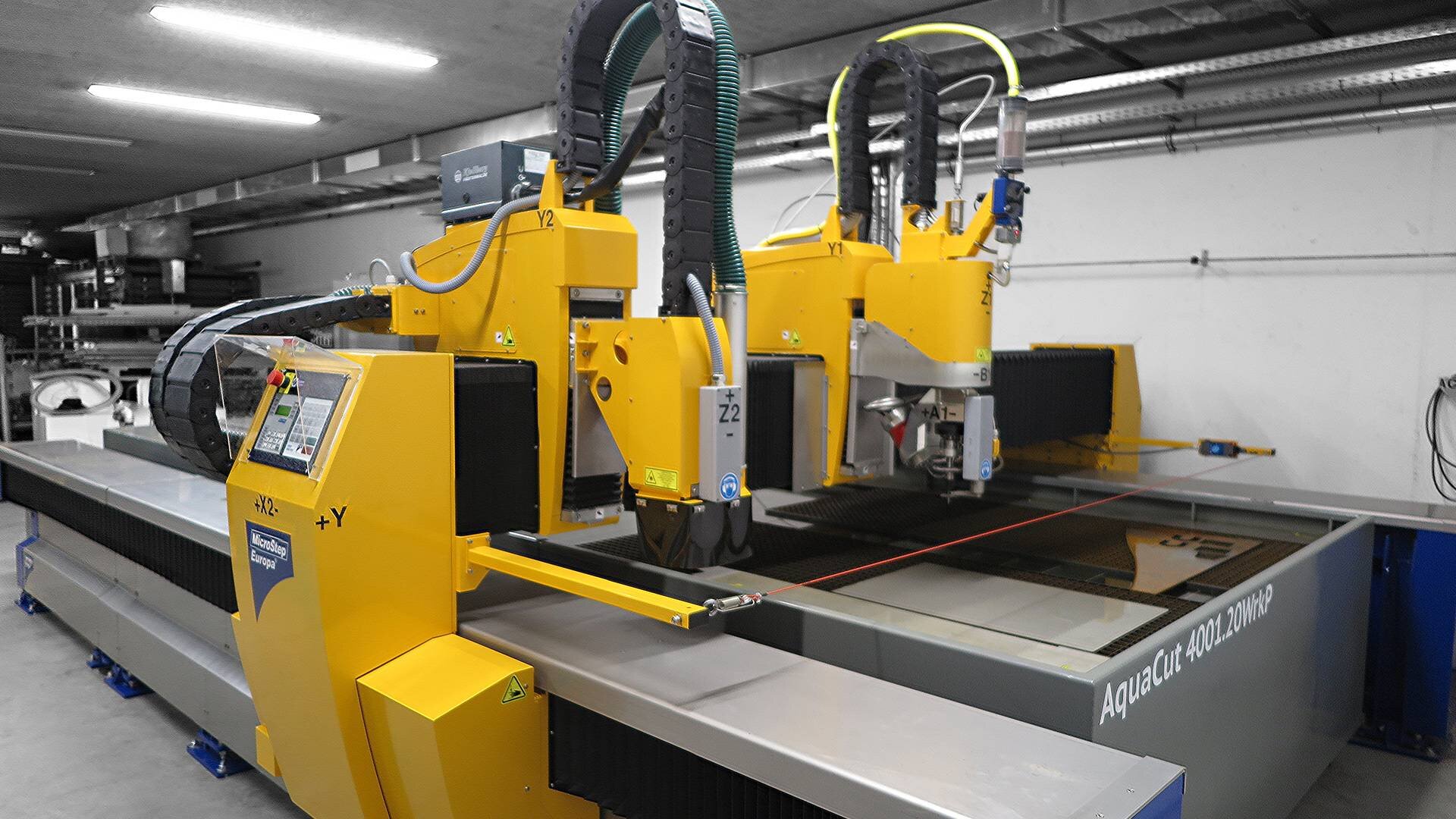 The AquaCut series is a high-precision CNC waterjet cutting machine designed to process almost any material without thermally affecting it through the cutting process.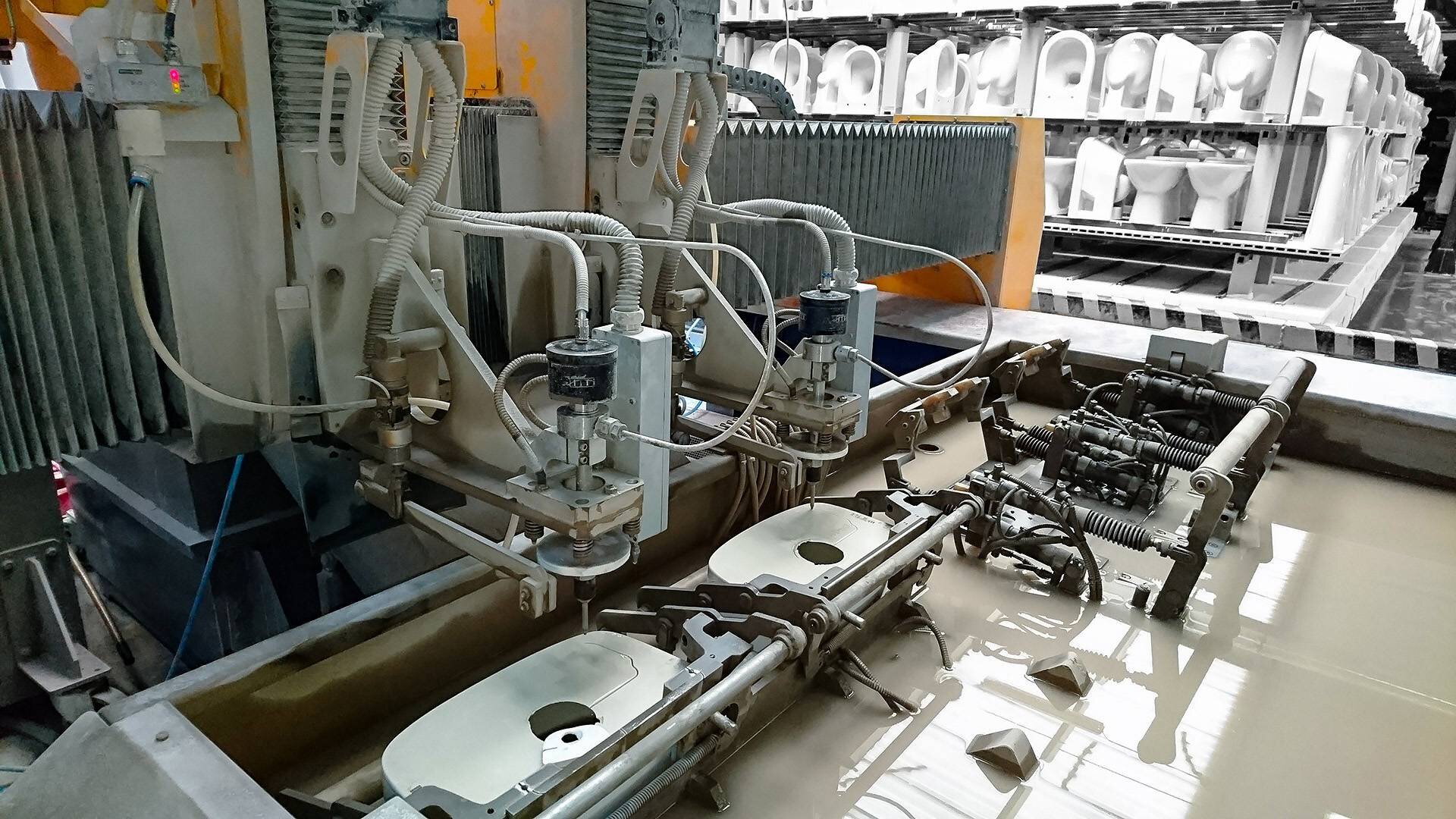 This means that two identical orders can be processed in parallel cutting operation and thus the production speed can be increased.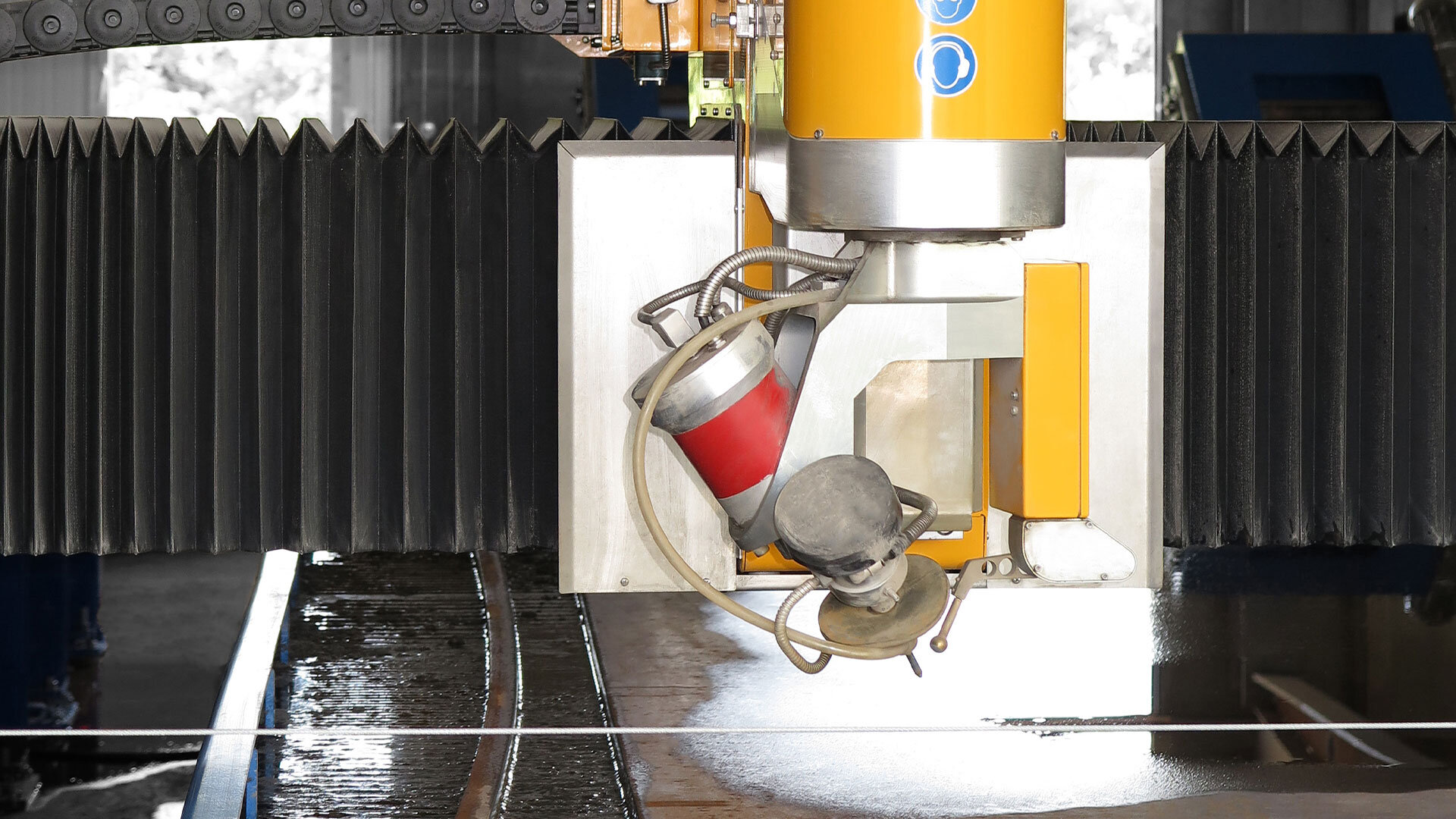 With the help of a waterjet rotator from MicroStep, extremely precise inclined cuts as well as vertical cuts can be performed.
Which materials can be processed with a waterjet cutting machine?
Waterjet cutting is a flexible process and enables the cutting of a wide range of materials: from hard metal and rock plates to deep-frozen food and delicate printed circuit boards.
Wasserjet cutting
Multifunctionality & automation
Waterjet cutting machines can be equipped for parallel cutting operation with several waterjet cutting heads or even with several waterjet rotators, thus ensuring a cost-effective increase in productivity. Options for marking or scanning workpieces can also be implemented on the waterjet systems. In the case of a solution with abrasive in the waterjet, a desludging system for automated discharge of the granulate can considerably facilitate the work. It is further possible to equip the series with a 2D plasma cutting head – for an even more economical processing of cutting tasks.
Multifunctionality
Strenghts of MicroStep's waterjet cutting systems
The CNC waterjet cutting systems from MicroStep are highly precise, reliable and space-saving thanks to their compact design. The waterjet systems enable the cutting of almost all materials – without exposing them to thermal influences. Further advantages of the MicroStep cutting machines are:
High-precision cuts for material thicknesses of up to 150 mm
Robust system components
Different versions of the cutting table
Intuitive software and control
High safety standards for machine operators
Waterjet cutting systems in various industries
Waterjet cutting systems are suited for cutting tasks where a thermal influence is undesirable and the highest precision is required. Therefore, this process is used in industries that place great value on delicate cuts.

Automotive industry: material processing in the high-tech segment as well as in mass production, prototype construction, airbag and composite parts cutting
Precision engineering: manufacturing of small parts in the watch and jewellery industry
Semiconductor industry: cutting and separating lead frames, cutting through copper wires, cutting SD cards
Food industry: Cutting of deep-frozen food
FAQ: We answer your questions about waterjet cutting systems
When do you use waterjet cutting machines in your business?
A waterjet cutting machine is mostly used for small batch production, prototype production or wherever thermal influences are not tolerated. A waterjet cutting machine can cut any material, even glass and stone.
Can I get a demonstration of the waterjet cutting machines at MicroStep?
When is it worth buying a high-quality waterjet cutting machine?
As soon as you cut components that are not made of steel, stainless steel or aluminium, you should look into waterjet technology. Often, parts are already purchased in the company that have been cut by waterjet. In the course of the consultation, MicroStep will be happy to calculate for your individual application from which capacity utilisation the use of your own waterjet cutting machine is economical. More about technology consulting.
Do my workers need special training to use a waterjet cutting machine?
No, that is not necessary. The purchase of a MicroStep waterjet cutting machine also includes training for the employees. This training is designed to meet the needs of the technological possibilities of the machine. Thus, the control and programming on the Windows-based user interface is easy to learn, regardless of the employee's field of expertise.
When does a waterjet cutting machine pay for itself?
This depends on several parameters. The amortisation of a waterjet cutting machine is calculated according to the respective specifications of the company. The MicroStep sales experts can precisely determine the manufacturing costs for an individual component in advance. From the planned utilization, the acquisition costs and the costs per cutting hour, an amortisation calculation can be created individually. We will be happy to help you with this.
Waterjet or laser - when to use which cutting method?
The laser has great advantages in the thin sheet area and for high quantities. Laser is subject to certain limitations in the choice of materials (More about laser). The waterjet, on the other hand, cuts any material: even plastics, glass or stone. Waterjet cutting is slower than laser cutting, but offers a wider range of applications.
Do the waterjet cutting machines need to be maintained?
Yes! Like any other machine, the waterjet cutting machine also needs to be maintained to ensure smooth production in the long term. The maintenance effort and the expected maintenance and consumption costs can be determined precisely and will be presented in the course of the technology consultation if you are interested.
Is the waterjet machine suitable for cutting metal?
Yes, a waterjet cutting machine cuts all types of metal. Metal alloys, regardless of composition, can also be cut. More on the subject of waterjet cutting