A combination of different cutting procedures and processing technologies generates many advantages
Higher quality and lower costs with multifunctional system solutions
Modern cutting systems offer a wide range of processing options and help to be even more productive. Additional technologies ensure reliable and reproducible results when cutting, drilling or marking
Published 24.02.2022 | Erich Wörishofer
Higher, faster, further. The Olympic idea is also popular in a modified form in the metalworking industry. Many companies are relying on increasingly versatile cutting systems to meet the market pressure for more individuality and quality down to batch size 1 with a more efficient and flexible production. With appropriate solutions, sheet metal, pipes, profiles, and domes can be processed multifunctionally, precisely, and reliably on just one system using various cutting processes.
The evaluation of production is based on the same criteria: production speed, quality and also production costs. This is no different in the metalworking industry than in other manufacturing sectors. When selecting the right technologies, flexibility is another factor. After all, it is important to be able to react to changing customer needs, to adapt the portfolio if necessary, to be able to position oneself broadly with foresight. For many years now, metalworking companies have had to master the balancing act of being able to produce ever faster, ever more individual components while maintaining the same level of quality.
In order to be prepared for these ever-increasing challenges, decision-makers are more and more turning to multifunctional cutting solutions that unite a multitude of advantages: Combined system solutions can provide the most diverse processing options for the most varied geometries fully automatically on one CNC cutting system. For example, technologies for cutting precise holes and contours, applying weld seam preparations as well as drilling, countersinking, tapping, marking, punching or scanning can be combined. These options can be used flexibly for processing sheet metal, pipes, profiles or domes – as pure specialists or in combined systems. With modern bevel units, even beams can be processed from three sides and domes up to under the brim. Different cutting processes can also be combined on a single system: cutting centers for processing using plasma, oxyfuel, laser or waterjet technology are in operation worldwide in a variety of configurations – for 2D cuts or 3D processing. These all-rounders not only provide the necessary flexibility, they also help users to massively save production time and thus production costs. For those who use a single system to cut out contours from a metal sheet, apply bevels and also drill holes and threads, there is no longer any need for material handling between individual machines, no need for transport to or from the intermediate storage area between processing steps, and no need for repeated clamping, setup and finishing. Just one loading, processing and unloading – that's all. The time saved varies from case to case. But spread over the year, it is enormous. This means that employees are no longer tied up with less productive tasks; they are free to use their skills more profitably.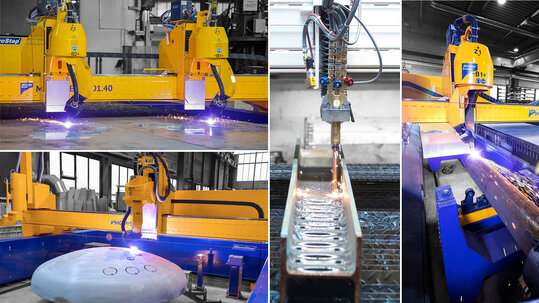 Example 3D plasma cutting system MG: the flexible system can process sheets, pipes, profiles and domes with process reliability. Similar flexibility is also possible with other cutting processes.
The art of process reliability with any technology
The art of multifunctional cutting systems is to operate them with consistently high quality and to achieve reproducible results throughout the entire machine life - even in multi-shift operation. Different cutting processes for 2D cutting, automated weld seam preparation for bevel cutting or further options for drilling, threading or marking cannot just be used on different geometries and semi-finished products without compromising quality. MicroStep has developed a wide range of technologies for this purpose, which are used multiply all over the world, so that CNC cutting systems can show their flexible strengths in a process-safe and precise way. Small and medium-sized metalworking companies as well as large companies such as Bosch, Doppelmayr, GEA or stürmsfs benefit from this.
Above all, MicroStep's ACTG® technology: the patented, automatic calibration unit "Automatic Calibration of Tool Geometry" ensures that the torch tip always moves exactly to the desired position when using rotator technology during rotation and tilting. ACTG® reduces the need for mechanical readjustment of the bevel head and thus – e.g. in the event of a collision – reduces the machine setup time from several hours to a few minutes. "When it comes to bevel cutting of this quality, MicroStep has a unique selling point in maintaining the tolerances required for robotic welding," says Walter Eberle, deputy production manager for production planning at Doppelmayr Seilbahnen GmbH. Doppelmayr has been working with MicroStep in the field of cutting for around two decades.
The calibration system is also used for measuring and adjusting other tools – for example, when using a drill support. ACTG® precisely measures the tools and thus creates the basis for accurately taking into account the width of the kerf when measuring the distance between the drill hole and the outer contour. Secondly, the calibration unit determines the offset between the torch and the drilling tool. Both are the basis for permanently accurate drill holes, threads and countersinks.
Automated weld seam preparation increases productivity

Further solutions are used to maximize and permanently stabilize the precision of automated weld seam preparation in line with the respective cutting process (oxyfuel, plasma, laser, waterjet). The task of these intelligent and partly self-learning systems is, among other things, to compensate for technology-related inaccuracies and to precisely detect the material surface and its distance from the bevel unit.
The following technologies are available, depending on the cutting process, to apply the desired bevel (V positive/negative, Y positive/negative, X or K): a laser rotator for bevel cuts up to 45°, a plasma rotator for bevel cuts up to 52°, an oxyfuel rotator for bevel cuts up to 60°, and a waterjet rotator for bevel cuts up to 45°.
"From the very beginning, we had the impression that we were getting a bevel and a drilling unit that was state-of-the-art and technologically leading. The system is very productive and also process reliable."
Marcel Meier
Head of Procurement & Corporate Development | stürmsfs AG
In addition, with plasma, laser and oxyfuel rotators, bevels can still be applied to already cut components with a multifunction scanner and MicroStep's ABP® technology. The proven system is a cost-effective alternative to robots and, like the direct application of welding edges using a CNC machine, reduces manual rework and helps to save material as well as operating costs. "From the very beginning, we had the impression that we were getting a bevel and a drilling unit that was state-of-the-art and technologically leading. The system is very productive and also process reliable," confirms Marcel Meier, head of procurement & corporate development at stürmsfs AG.
Solutions for not losing time in material handling
With tools becoming more and more precise and process-safe systems, machines are becoming faster and faster. The limiting factor is getting more and more the material handling. Semi-manual loading and unloading of workpieces usually takes significantly more time than can be gained by the processing operation. Automated and versatile material handling systems can keep pace here and are useful helpers to additionally raise efficiency to a new level. For example, the MSLoop system, a shuttle table system consisting of several cutting grids that moves on the paternoster principle, which significantly increases the throughput of CNC cutting systems as the system enables simultaneous loading, cutting and unloading in separate zones. Or an even higher level of automation by integrating the MSLoad sheet loading system in combination with a shuttle table as well as the MSTower storage system and the MSSort parts sorting system. Depending on the requirements, producers can choose the system most suited to their needs and use it profitably. For a more flexible, faster and more stable production with only one system solution.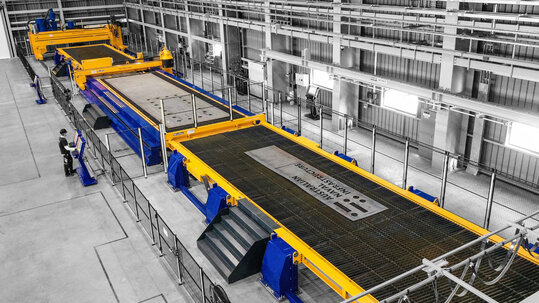 MicroStep's MSLoop system at the Australian ANI shipbuilding project. Find out more at Australian shipyard invests in highly efficient solution
EXTRA: OVERVIEW OF CUTTING TECHNOLOGIES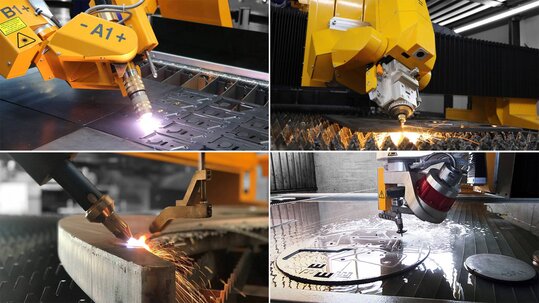 In the metalworking industry, four cutting technologies are decisive: plasma cutting, laser cutting, oxyfuel cutting and waterjet cutting. Each cutting process has its justification, its application fields, its strengths and weaknesses. By combining certain technologies, strengths can be united and CNC systems can be operated even more flexibly. For example, combinations of plasma and oxyfuel technology, or also waterjet technology, are in operation at many companies around the world. Here is a brief overview of the technologies:
Oxyfuel cutting: economical process for medium and higher mild steel thicknesses
Oxyfuel cutting has its strengths in the medium and larger material thickness range and can cut materials up to 300 mm. The investment and wear part costs are comparatively low. The thermal cutting process is only suitable for mild steel, has a large heat input on the material and losses in the cutting quality.
More on flame cutting
Plasma cutting: high-quality and efficient processing of conductive materials with thin and medium material thicknesses
Plasma technology can be used to efficiently process all conductive materials such as mild steel, stainless steel and aluminum in the thin and medium material thickness range. The quality is very high, the materials can be cut almost without post-processing. The technology is significantly faster than oxyfuel, offers high flexibility in material types and thicknesses, and the possibility of automation. The kerf is a bit wider than with laser, and there are limitations for the finest internal contours. In addition, the technology is very noisy.
More on plasma cutting
Laser cutting: Processing various materials with thinner thicknesses quickly and precisely
Laser cutting represents precision, speed and low heat input and has its strengths above all when cutting thin sheet metal. Laser technology can cut metals as well as plastics, wood, paper or even composite materials. Very small holes, micro joints and acute-angled geometries are possible. Compared to other processes, the investment and operating costs are disproportionately higher and the range of sheet thicknesses that can be processed economically is limited. Even though development is progressing rapidly in this field and increasingly higher material thicknesses of 20 mm and more can be cut economically.
More on laser cutting
Waterjet cutting: all-cutter with no thermal impact
Contrary to the other cutting technologies, waterjet cutting is a cold cutting process and therefore does not cause any thermal impact on the material. This cutting technology impresses with its enormous precision with angle-precise cuts and the possibility of processing a wide variety of materials. However, the technology is significantly slower and requires a lot of maintenance effort due to the disposal of water and abrasive or due to the effect of water on machine components.
More on waterjet cutting