stürmsfs AG gains quality and production speed with 3D plasma cutting system
Swiss job shop center: "We act as an extended workbench for the customer"
stürmsfs AG, one of the most modern steel and metal service centers in Europe, invested in an MG plasma cutting system from MicroStep - a cutting system "that has fulfilled all expectations".
Published 29.01.2018 | Erich Wörishofer
Company profile: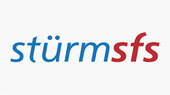 stürmsfs ag
Landgrütistrasse 20
9403 Goldach
Switzerland
The stürmsfs AG based in Goldach, Switzerland is an internationally operating steel processor with production sites in
Switzerland, Austria and Slovakia. The company, which employs 270 people, is a steel trader and manufacturer in the steel,
metal and alternative materials sectors. The roots of stürmsfs date back to 1835. In 2011, today's stürmsfs AG was created
through the merger of the long-established companies Stürm AG and the Steel + Metal Division of SFS Locher AG.
Machine profile:
MG series (Switzerland)
Working area 21,000 x 3,500 mm
Plasma rotator for weld preparation up to 50° with auto
calibration feature (ACTG®)
2D plasma
Drilling up to Ø 40 mm and tapping up to M33
Inkjet marking
CombiCut series (Slovakia)
Working area 12,000 x 3,000 mm
6x 2D oxyfuel
MicroLas series (Slovakia)
Working area 3,000 x 1,500 mm
2D CO2 laser – 3,3 kW
Automatic shuttle table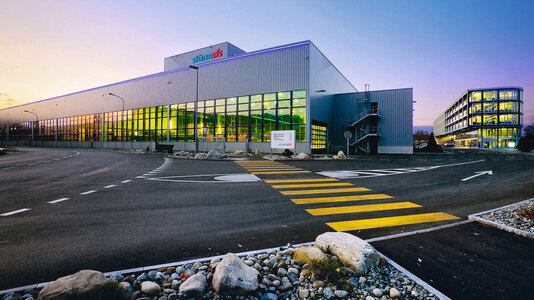 The stürmsfs AG, based in the Swiss community of Goldach, is one of the most modern sheet metal service centers in Europe. 30,000 tons of metals and steels are available in the fully automated high-bay warehouse for the fast processing of customer orders. © stürmsfs AG
stürmsfs AG is considered one of the leading job shops in Switzerland and one of the most modern across Europe. This steel and metal business is well prepared to take care of all jobs, both complex and short-term. For this reason, the company has invested heavily in recent years, into digital systems, automation, and cutting edge technology. Since July 2017, this includes also the MG plasma cutting machine from MicroStep. stürmsfs
relies on this multifunctional cutter for 3D processing of sheet metal with a plasma rotator, 2D plasma torch and drilling spindle.
Nestled between the hilly Appenzellerland and Lake Constance, Goldach is regarded as one of the most attractive regions in Switzerland. Amidst this picturesque scenery is one of the most modern steel and metal processing job shops in Europe that helps make the Goldach region one of the most efficient providers of complete steel and metal solutions on the Swiss market. 40 thousand tons of metal and steel wait at different locations, including fully automatic high shelf warehouses, ready to be cut, processed and delivered every day.

A total of six facilities in Switzerland, Austria and Slovakia employ around 260 employees responsible for production of customized components. Small locksmiths, steel construction builders, large manufacturing plants, all depend on the stürmsfs AG's high-quality products and their on-time delivery ensured by their own truck fleet. "It is the diversity that makes our company so important
that we are considered the most established steel and metal dealer in Switzerland. We are competent in many areas like machining and thermal cutting. We are also known for a high degree of automation. We function as a detached workbench of the customer." Marcel Meier, Head of Procurement & Corporate Development, explains.
Large orders on a short notice
Automation of the whole production cycle – from placing of the order and manufacturing to delivery – is one of the company's many strengths. Just to give an example, the major customers have individual access to stürmsfs´ system in order to achieve fastest results possible. "We are absolutely flexible in production," says Meier who sees the increasing number of short-term orders as the major challenge for the entire job cutting industry. "You know what is going to be cut this week but often you have no idea what the week after that will be like. The contractor has to be prepared to cut large orders on a short notice." Automated processes and increased digitalization of production should be a big help in this regard. The core of the company's success is still the "know-how" of its
employees coupled with the machinery which leaves room for flexibility that in turn enables the necessary speed while maintaining required quality.
Wanted: Technologically advanced plasma cutting system
with bevel cutting and drilling
As a part of a large-scale production optimization project, the company decided to build a new hall for thermal cutting. Their now five-year-old plasma cutting machine was to be supplemented with a second one in order not to affect the current plasma cutting orders. After an extensive analysis of the market as well as the technical possibilities and considering their particular needs, stürmsfs finally
decided in favor of a plasma cutting machine MG from MicroStep. "We were convinced by the whole package. From the start we had an impression that the bevel head we are getting is state-of-the-art." says Marcel Meier looking back at the purchase decision at the end of 2016. In addition, performance of the drilling unit has also proven to be most convincing. "This is where MicroStep is far ahead compared to other CNC machine producers."
Since July 2017 the machine has been in use for two shifts per day and when it is necessary, a third, night, shift is added. The job shop has bought a plasma cutting
system enabling both 2D and 3D plasma cutting, drilling, tapping and countersinking.
"The machine is two to three times as productive as its
predecessor."
Since July 2017 the machine has been in use for two shifts per day and when it is necessary, a third, night, shift is added. The job shop has bought a plasma cutting
system enabling both 2D and 3D plasma cutting, drilling, tapping and countersinking. The working area of 21 x 3,5 m, divided into two cutting zones, allows processing of large-format plates in parallel operations – while in one zone the material is being cut, the other one is safe for unloading of cut parts and loading of new material. The job shop is usually cutting plates between 5 and 35 mm thick. Both the drilling spindle and the plasma rotator with infinite rotation are being used quite often. The decision has proven to be the right one also for the plate production manager Markus Egger: "We are very satisfied with the machine. Especially when it comes to drilling, it is two to three times more productive than its predecessor. We have a great advantage, we are able to cut threads, we are able to countersink. Both accuracy and quality of bevels are very high."
Switching to MicroStep technology worked "very well"
The switch to MicroStep was accompanied by the change to the SigmaNEST CAD/CAM software made by an American nesting specialist. Marcel Meier is satisfied: "We
have taken some risks because we had to change both the machine and the nesting software provider at the same time. And the whole change with MicroStep worked
out very well," says the head of Projects and Corporate Development who played a major role in the investment decisions.
This project has left behind many happy faces among the responsible people from stürmsfs AG. "The system is very productive and reliable – it has met all our expectations,"
says Marcel Meier. "Our operators appreciate that they can actively influence the cutting result."