Kitzingen saves significant production time and subsequent work
Processing time reduced from one and a half weeks to one day
The internationally active technology company is one of the largest system providers for the food processing industry. With the investment in the MG series for processing plates and domes, enormous advantages were achieved
Published 08.04.2020 | Erich Wörishofer
Company profile: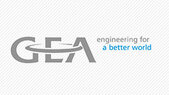 GEA Production Kitzingen
Heinrich-Huppmann-Str. 1
97318 Kitzingen
Germany
The internationally operating technology company GEA is one of the largest system providers for the food processing industry and focuses on machinery and equipment, process technology and components. At its site in Kitzingen, Germany, GEA manufactures equipment and apparatus for the food, pharmaceutical and chemical industries.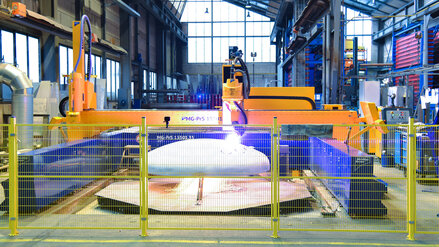 The plasma rotator can be used to apply precise holes and contours with bevels to domes with a diameter of up to 3,500 mm.
When it comes to the products of GEA Production Kitzingen GmbH, the highest possible precision is a fundamental requirement. That is what the customers expect of the containers and equipment of the major food processing industry supplier. High quality production requires experience, precise work and modern machine solutions. On MicroStep's recommendation, the specialist decided to purchase an MG series plasma cutting system for 3D processing of sheets and domes. The Head of Production in Kitzingen, Eduard Sauter, considers this "a huge benefit. I recommend MicroStep at our other sites that have a similar portfolio."
The containers and appliances that GEA Production Kitzingen builds for their customers are real giants, manufactured with the highest precision and cutting-
edge technology. The products they make for the processing industry can be up to 70 tons heavy, up to 13 meters in diameter and 17 meters in length. Very high standards on surface roughness as well as high accuracies and tight tolerances are required so that the custom-made products may be installed and used as
intended.

The internationally operating GEA Group is one of the largest system providers for the food processing industry. In 2019, GEA generated a group turnover of around 4.9 billion euros. At its site in Kitzingen, Germany, it manufactures tanks and apparatus for the food, pharmaceutical and chemical industries. Around 240 skilled workers, all of whom are qualified without exception, produce here with state-of-the-art machines and a great deal of know-how on the 63,000 square meter site, 9,000 square meters of which are used for production. "We are a reliable partner when it comes to delivery reliability combined with quality. We make possible what the customer wants," says Eduard Sauter, Head of Production in Kitzingen.
Successor for plasma cutting system sought - 2D laser system for sheet metal in sight
And these customers demand ever faster delivery with at least the same high quality standards. To achieve this, the GEA Group is always on the lookout for new technology that best combines several advantages: "We have to test every technology for us, but not every technology is applicable – especially not in our type of production with many one-offs. There are technologies on the market that make previous production processes safer – this is about process reliability –, that bring about an increase in quality and if it leads to an absolute reduction in throughput times, then it is an absolute win situation for us," says Sauter. With these aspects in mind, it was time to replace a plasma cutting system in 2015. "I thought plasma was an outdated technology. That's why we wanted a CO2 or a fiber laser," says Eduard Sauter looking back. So the investment sum and technical possibilities were examined, the added value of a desired 2D laser for sheet metal was identified. "We then talked to a large number of manufacturers – including well-known ones – and received offers and solutions. However, the technologies presented did not exactly meet the requirements of the processing options.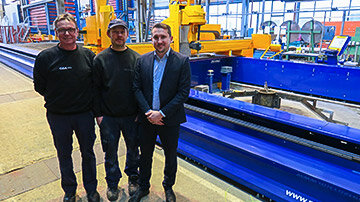 "With the costly manual work, the throughput time, i.e. the production time with interruptions, was one and a half to two weeks for a complex dome with several nozzles – today we are at one day. That is a huge benefit. If we can deliver one and a half weeks faster in our business – it can be decisive for an order. I recommend MicroStep to our other GEA sites that have a similar product portfolio."
Eduard Sauter (right),
Head of Production | GEA Production Kitzingen GmbH
Machine profile:
DRM
Working area 13,500 x 3,000 mm
Cutting of domes with a diameter from 500 to 3,500 mm and a maximum height of 950 mm
Plasma rotator for weld preparation up to 50° with auto-calibration feature (ACTG®)
3D scanner + mScan technology for compensation of the production-related deviation of the dome shape by adjusting the generated cutting paths according to the true scanned shape of the dome
Consulting of MicroStep after intensive analysis of production and portfolio
So Sauter gave plasma technology a chance and was convinced by MicroStep. "I was told that a lot of what they think they have to do with the laser is now possible with modern plasma technology," says Sauter. His interest was aroused. MicroStep took its time and a close look at the production. "We had the MicroStep specialists visit the production facility to evaluate which technology would give us the most benefit based on our portfolio". Concerns about plasma technology in terms of noise and dust pollution were also quickly dispelled. "This is absolutely in the green zone for the industrial sector," emphasizes Eduard Sauter.
Combined plasma cutting solution for domes and sheets instead of laser cutting system
The initial 2D laser system for flat material thus became a combined plate and dome processing center for 3D cutting tasks. The decision was made in favor of the MG series, the multifunctional plasma all-rounder from MicroStep: the advantages of a rotator and the possibility to apply bevels to domes were convincing. There was no comparable laser solution on the market. The decision to use plasma technology proved to be a sensible one: GEA Production Kitzingen has no need for large series, usually material thicknesses of 3 to 15 mm are processed, but also many thicker ones. In order to shorten delivery times, in exceptional cases a cut-off cut must also be made on 90 mm thick material.
The system has now been in operation since June 2017. Flat material on a working area of 12,000 x 3,500 mm and domes with a diameter of up to 3,500 mm can be processed. The majority of the domes have a diameter of 500 to 2,200 mm. The specialist's experience with the new technology has been positive: "The nature of the system gives me the impression that it is rock solid. I recommend MicroStep to our other GEA locations that have a similar product portfolio".
Successful search for process-safe system for higher quality and shorter production time
The initial search for a machine that operates reliably, increases quality and reduces production times has paid off for GEA Production Kitzingen. Especially the addition of the dome processing technology proved to be the right way forward. Thanks to the mScan technology from MicroStep, which sets standards in precision in dome construction, the German company has no problems with the required tolerances – in addition, a large part of the extreme manual work of the past is no longer necessary.
For Sauter, the decision in favor of the new system has more than paid off, the conclusion is positive: "This is not a stand-alone machine, you also have to be able to operate it. Even if questions arise, you can quickly reach telephone support and then it will be solved. I am promoting this type of machine within GEA".
OVERVIEW OF THE HIGHLIGHTS OF THE MG-PRS 15501.35 CNC-PLASMA CUTTING SYSTEM
Plasma cutting system for 3D processing of sheets and domes

The system configuration of the MG series at GEA Production Kitzingen was designed for precise and flexible 3D processing of plates and domes. The MicroStep R5 rotator was integrated – the endless rotating tool is used to perform precise and reliable cutting tasks for bevel processing, for example for weld edge preparation up to 45° on flat material. The plasma source is a HiFocus 360i neo from Kjellberg with automatic gas console and Contour-Cut Speed technology, the filter system is a suction system type ZPF 9H from Teka with an additional spark pre-separator TK-FVS 7000 - 12000. The fully automatic, patented ACTG® calibration unit ensures the exact repeatability of the work steps. A scanner calibration station was also installed for calibration during dome processing.
3D plate processing on a working area of 12,000 x 3,500 mm
Part of the MG cutting system at GEA is a CNC oxyfuel cutting table with energy-saving sectional extraction for processing flat material. The working area is 12,000 x 3,500 mm for large-sized sheets.
3D dome processing with a diameter up to 3,500 mm
A dome table is integrated as a further element of the multifunctional system. On this table, precise holes and contours with bevels can be applied to domes with a diameter of up to 3,500 mm using the plasma rotator.
Precise detection and dome processing with MicroStep mScan® technology
For the high-precision processing of domes, GEA Prodction Kitzingen relies on the mScan technology from MicroStep. A laser scanner was integrated in the MG plasma cutting system, which determines the surface of the dome. The dome height, dome diameter, curvature radius and corner radius are detected. The geometric data are imported in the mScan software, the system compensates the production-related deviations from the ideal contour, corrects the parameters based on the 3D scan and sets the cutting paths accordingly. The use of this technology thus leads to a significant improvement in the cutting quality when processing the workpieces.
Comprehensive software package for controlling and monitoring production processes
In addition to the unique mScan® software, GEA's equipment includes a comprehensive software package that enables simple, intuitive operation of the technologies and also allows monitoring of the production processes. Among other things, this allows the machine data to be evaluated. The tool can also be used to provide information on the total running time, total cutting length, cutting times, cutting costs or even the utilization of wear parts.