MicroStep mCAM® 3D CAM software
mCAM | Powerful 3D CAM software for complex cutting programs
mCAM is an efficient tool for automated 3D cutting of pipes, profiles, beams, domes and flat plates with cutting machines equipped with various technologies (plasma, oxyfuel, waterjet and laser). mCAM can directly import 3D models (created in SolidWorks, Inventor, etc.), organize them into individual libraries and process them. The software analyzes the shape of an entire model and automatically detects cutting paths. Thanks to the integrated nesting process, the individual components can then be efficiently nested on material templates.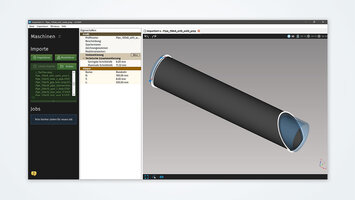 Processing of pipes, profiles, domes and sheets
Individual components can also be imported, nested and cut easily and intuitively as 3D models.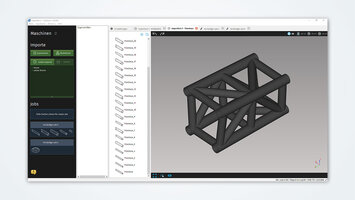 Processing of pipes, profiles, domes and flat plates
mCAM supports automatic detection of both simple and complex 3D shapes: flat plates, circular pipes and segments, rectangular profiles, elliptical, torispherical and semi-elliptical domes, cones, arched, dished, flat and inverted domes, sphere-caps, extruded and bent U- and L-beams and H- and I-beams with parallel and non-parallel flanges.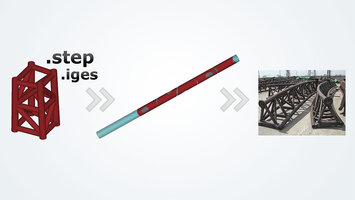 Automatic nesting of complex 3D models
1. Import of a 3D model into mCAM
2. Automatic detection of cutting paths
3. The model is split into individual components
4. Automatic nesting on a material template
5. Complete compensation of cutting kerfs
6. Simulation of the cutting process for increased process reliability
7. Cutting of nested components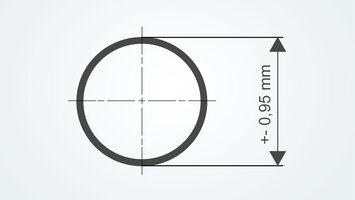 Detection of geometric deviations
iMSNC® measures the material for any production-related imprecisions and compensates for them directly during component processing.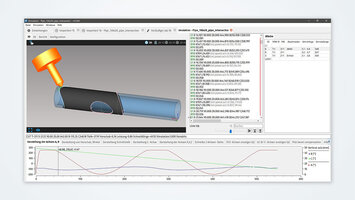 Simulation of the cutting process for more process reliability
With cutting simulation in mCAM, cutting plans can be checked for possible errors before the actual cutting, saving time and money through less waste and generally ensuring higher process reliability.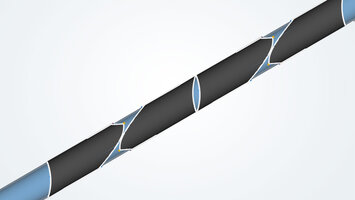 Automatic placement of micro-joints to minimize thermal distortion
mCAM can add micro-joints to the finished cutting plan to minimize the risk of thermal deformation and to keep the individual components together right up to the end.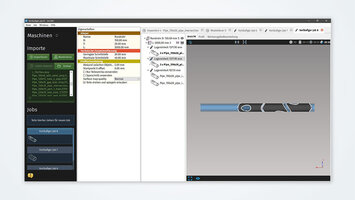 Automatic processing of cutting tasks
mCAM is able to automatically nest the individual components of a cutting job on the right material in your stock. To use the full potential of mCAM's order management, it can be connected to the MicroStep Production Management MPM or to an existing ERP system.