Contract cutting company AL-Cut invested in a multifunctional cutting solution
"The cooperation with MicroStep is very good, it's family-like "
AL-Cut AG is a cutting center in demand throughout Switzerland for the production of small series and prototypes. A drilling plasma cutting system from MicroStep expands the possibilities in terms of economy and flexibility
Published 07.07.2021 | Erich Wörishofer
Company profile: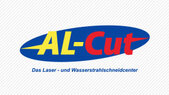 AL-Cut AG
Industriestrasse 44
6034 Inwil
Switzerland
Founded in 2009, the job shop center AL-Cut AG, based in the Swiss canton of Lucerne, serves more than 250 customers with state-of-the-art laser, plasma and waterjet cutting technology as well as other complementary technologies and in-house 3D CAD programming.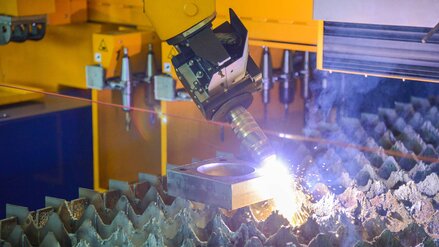 The MG series at AL-Cut AG was designed for precise and flexible 3D processing of sheet metal and domes. The MicroStep plasma rotator enables the cutting of holes, contours and bevels on flat material and dished ends. In addition, sheet metal can be drilled, tapped and countersunk by means of a drilling spindle.
The AL-Cut job shop center is located just a few minutes' drive north of Luzern, in the town of Inwil. From here, the company provides its cutting services to a wide array of companies representing different industry segments from all corners of Switzerland. AL-Cut specializes mostly on small series of parts and parts prototypes. In order to be able to efficiently cut thicker materials, the company, which has specialized in waterjet and laser cutting up to that point, has decided to expand its machine park by purchasing a CNC plasma cutting and drilling system. It was the flexibility of this machine designed for 3D processing of sheet metal and tank ends that became the deciding factor in favor of MicroStep. The conclusion after two years in use? "We are very satisfied with the concept and continue to recommend it everywhere."
Both managing directors of AL-Cut have metal in their blood. Before Toni Räber and Andreas Sommer set up their own business in mid-2009, they have been around the metal construction industry and gained experience both in technology and sales. The focus of their joint venture is waterjet and laser cutting – after all, the first two letters in the name of their company AL-Cut stand for aqua and laser. "The core business of cutting distinguishes us. We have all kinds of customers, reaching from the technology segment and tilers up to gravestone manufacturers. But also, medical technology, electrical engineers and artists," says Toni Räber.
Customers from all over Switzerland rely on the quality and reliability of this specialized company of 14 employees. AL-Cut is sought after especially for prototypes and small series of parts. Mechanical engineering, steel constructions, vehicle construction or aircraft technology are just few of the industries served by AL-Cut's 1000 sqm factory. In order to keep up with the demand while attaining their speed and quality, the job shop is investing not only into machinery but also expanding the work area: a new 1200 sqm extension of the production hall is already under construction.
Looking for an economical alternative between laser and waterjet
Ever since May 2017 there is a new member in the AL-Cut machine park. Surrounded by a laser, a waterjet, a press brake and a grinding machine, the multifunctional plasma and drilling solution from MicroStep is dedicated to 3D processing of flat metal sheets and domes. "Since we are mainly a laser and a waterjet cutting center, we needed an economical in-between option, that being the plasma cutting system. It enables us to cut firm, thick materials, which are beyond the capabilities of lasers and too expensive to cut on a waterjet," explains Tony Räber.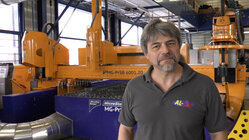 "The collaboration with MicroStep is very good and family-like. Advice is very straightforward. With Microstep, we feel at home and in good hands. All in all, we are very satisfied with the whole concept and can recommend it to everyone."
Toni Räber
Managing Director | AL-Cut AG
Machine profile:
MG series
Working area 6,000 x 2,000 mm
Cutting of domes Ø 500 – 1,500 mm up to a height of 700 mm
Plasma rotator for weld preparation up to 45° with auto-calibration feature (ACTG®)
3D scanner + mScan technology for compensation of the production-related deviation of dome shape by adjusting the
generated cutting paths according to the true scanned shape of dome
Additional Beveling Process (ABP)
Drilling up to Ø 40 mm and tapping up to M33
Professional consultancy and flexibility give MicroStep an edge
The decision-makers from AL-Cut came across MicroStep through a specialist during the initial phase of the selection process. After the initial consultation, Toni Räber and his colleague Andreas Sommer looked also at other manufacturers. In the end the flexibility of the solution that MicroStep offered tipped the scales in favor of the Slovak producer. Following a thorough analysis and advice, the originally sought underwater plasma cutting system was transformed into a solution which combines multiple processing options.
"MicroStep has built a special multifunctional system for us that is capable of cutting relatively thick materials economically. In addition, we are not restricted only to 2D cutting, but can use the machine for 3D processing of tank ends as well as for drilling, countersinking and tapping," says Mr. Räber.
Satisfied with the concept
With almost three years since the commissioning, the plasma and drilling "combo" has proven to be a reliable day-to-day worker. Above all, the machine is mostly used for cutting 2D and 3D contours into flat sheets in combination with drilling, which is a very popular feature that is being used all the time. The purchase has been definitely worth it for AL-Cut; it has given the company the ability to fulfill almost any contract in-house. "The collaboration with MicroStep is very good and family-like. Their advice is very straightforward. With Microstep, we feel at home and in good hands. All in all, we are very satisfied with the whole concept and recommend it to everyone," says Toni Räber.
OVERVIEW OF THE HIGHLIGHTS OF THE PLASMA CUTTING MACHINE MG-PRSB 6001.20
3D sheet metal processing on a working area of 6,000 x 2,000 mm
AL-Cut AG opted for a plasma cutting system of the MG series for 3D processing of sheet metal on a working area of 6,000 x 2,000 mm.
3D processing of domes from 500 to 1,500 mm diameter
A special dome cutting table was installed at one end of the MG plasma cutting system. Thanks to the flexible design at the Swiss job shop center, the CNC cutting system enables 3D processing of domes with a diameter of 500 to 1,500 mm in addition to sheet metal processing.
Plasma rotator for weld edge preparation up to 45° and dome processing with automatic calibration unit
AL-Cut AG invested in a drilling plasma cutting solution for processing sheet metal and domes. The MicroStep plasma rotator for weld edge preparation up to 45° was integrated into the cutting solution. The endlessly rotating bevel unit enables V, X, Y or K seams to be applied and is used not only for cutting sheet metal but also for processing domes. The ACTG® calibration unit, developed and patented by MicroStep, is used to calibrate the bevel unit as well as the other tools. The unique system corrects inaccuracies and deviations fully automatically with the highest precision in the hundredth range. AL-Cut relies on an extremely powerful model from the HiFocus 600i neo series with automatic gas console and Contour Cut Speed technology as its plasma power source. According to manufacturer Kjellberg Finsterwalde, this model enables quality cuts on materials up to 120 mm thick and separation cuts up to 160 mm thick.
Drilling unit for drilling up to 40 mm and tapping up to M33 with automatic tool changer
For the processing of cutting tasks, a drilling spindle with 26.8 kW for drilling up to Ø 40 mm and threads up to M33 was installed at the MG plasma cutting system. Part of the drilling-cutting system is a magazine consisting of two tool carriers for a total of 16 tools. The system allows the tools to be changed fully automatically.
ABP® technology from MicroStep for subsequent weld edge preparation on already cut components
MicroStep's ABP® (Additional Beveling Process) technology was developed to realize the subsequent application of bevels for weld edge preparation on a cutting system. By means of the multifunction laser scanner, which is also used for the 3D detection of domes (see feature below), already cut components are scanned and flexible bevels are applied. This eliminates the need for time-consuming material handling on an additional (robot) workstation and makes it possible to apply weld edge preparations subsequently, even for thicker materials.
mSCAN® technology from MicroStep for precise detection and processing of domes
AL-Cut AG relies on MicroStep's mSCAN® technology for high-precision processing of domes. A laser scanner was integrated into the MG plasma cutting system, which determines the surface of the dome. In the process, height, diameter, camber radius and corner radius of the dome are recorded. The geometry data is imported into the mSCAN® software, the system compensates for production-related deviations from the ideal contour, corrects the parameters based on the 3D scan and sets the cutting paths accordingly. The use of this technology thus leads to a significant improvement in the cutting quality during the processing of the workpieces. An additional Scanner Calibration Station is used to calibrate the scanner during the dome processing.