The 3D fiber laser at the globally active company Rytz offers numerous processing options
From shipbuilding to the flexible laser system: "Versatility is crucial"
In order to be more independent of the contract cutting sector, the Swiss steel and facade manufacturer Rytz AG invested in a CNC fiber laser with laser rotator and scanner for sheet metal, tube and profile processing
Published 05.06.2019 | Erich Wörishofer
Company profile: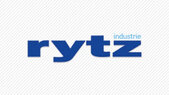 Rytz Industriebau AG
Hauptstrasse 1
4455 Zunzgen
Switzerland
Founded in 1974, Rytz Industriebau AG is responsible for the planning and production of commercial and industrial buildings in the areas of steel construction, glass construction, metal construction and façade construction systems. Customers from all over the world, such as the furniture giant Ikea or the renowned luxury hotel chain Hilton, rely on the products and services of the specialist company.
Machine profile:
MSF series
Working area 6,000 x 2,000 mm
Cutting of pipes Ø 30 – 300 mm and hollow sections up to a
length of 6,000 mm
Laser rotator for weld preparation up to 45° with auto-
calibration feature (ACTG®) + 6 kW fiber laser source
Scanner for Additional Beveling Process (ABP)
Automatic plate edge detection
Automatic shuttle table
Rytz Industriebau AG decided to use an MSF FiberLas, a fiber laser cutting solution which allows to perform several processes on only one machine. The laser cutting system has a processing area of 6,000 x 2,000 mm for sheet metal processing; the system can also process tubes and profiles from 30 to 300 mm diameter. The equipment includes a high-power laser source from IPG, a laser rotator, a fully automatic calibration unit ACTG, a fully automatic shuttle table and a technology for subsequent bevel processing on already cut parts (ABP®).